On Twitter, a hater by the name of Waqar Attari makes a huge claim…and he's got the video to prove it!
An Israeli police man strangles a palestinian Child to death on saturday during the protest of US embassy move to the Jerusalem. The innocent boy even read Kalima e shahadat before dying.
pls make this video viral.#Israel_is_terrorist#Stop_Israel pic.twitter.com/8ARTaR4Qcm

— Waqar Attari (@WaqarAttari25) June 10, 2019
While it has not gone full-on viral – despite the begging of the hater who posted it – it has been retweeted 44 times since tweeted less than 9 hours ago, as of the time of this post. That's still hundreds of people potentially influenced by this libel.
And a libel it well and truly is.
I knew this without even looking into it, because there was absolutely no news report, even from the palestinian side, of an Israeli policeman strangling a palestinian child on Saturday.
But in terms of concrete proof of its lack of authenticity, we have that too.
The video is from an incident that occurred in Sweden over 4 years ago.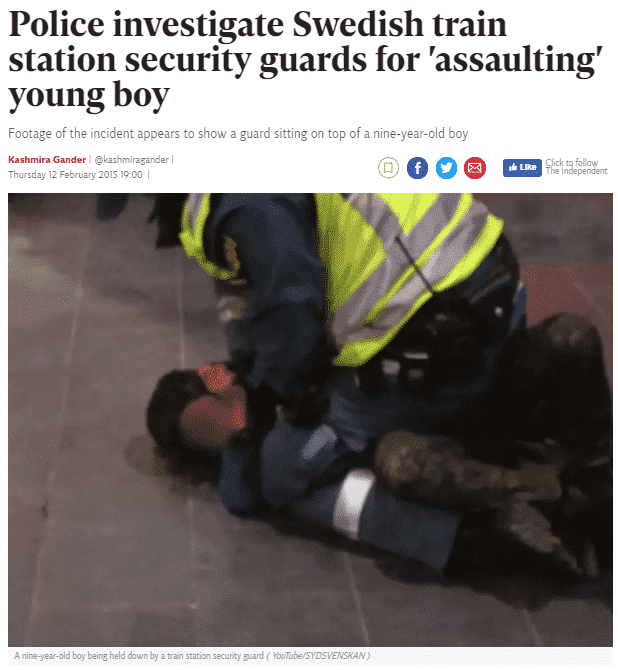 A pair of train station security guards are being investigated by Swedish police, after disturbing footage emerged appearing to show one assaulting a nine-year-old boy.

The video appears to show a guard sitting on top of a nine-year-old boy in the station in the city of Malmo. As the child struggles, the guard is seen clasping his hands over the boy's mouth, and pushing his face into the ground.

In his apparent state of distress, the boy is heard reciting the Shahada – an Islamic prayer.

The guard had detained the boy and his 12-year-old friend after they travelled without a ticket and were made to leave a train.
Incidentally, the incident happened in Malmo, the Swedish city in which many antisemitic incidents have occurred in recent times.
Notice the detail about the boy reciting the shahada. This is similar to what the tweeter claimed about the supposed palestinian victim – which confirms to me that he maliciously tweeted what he did, knowing the true source of the video. This was no mistake.
But it never is. The haters have all the hate in the world but none of the truth on their side.
Hat tip: Michael
Please help ensure Israellycool can keep going,
by donating one time or monthly