In case you missed it, some antisemitism Down Under has been making waves around the world.
Since currently the options for fighting back legally are currently limited, I will do what I always do: shame the Jew-hating turds.
The flag's owner is reportedly Bill's girlfriend, Cheryl Lawdorn, who has defended her actions, arguing the ensign is part of her German ancestry. It is no wonder she said what she did to the television crew.
Her Facebook wall is here. While she seems too cowardly to show any photos of herself, she is clearly not smart enough to realize she sealed Bill's internet fate when she uploaded this and posted it as a public post.
(Warning: not to be viewed on a full stomach – much like Bill exhibits all the time)
I apologize to all of you who looked, but I want Bill to be a laughing sock stock for the rest of his miserable life. That is, unless, he sincerely repents and take steps to make amends.
And yes, I am aware he may not even care, but sometimes you just have to do something.
Update: After some people posted some comments on Cheryl's Facebook wall, others have claimed it is not the same Cheryl.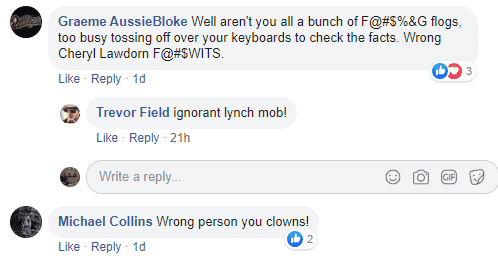 Nice try.
While I find it highly unlikely that someone else with exactly the same name, from Victoria, would have a boyfriend called Bill, there is more compelling proof: the photo on the left is from her Facebook photos, the right from the Current Affair news report.
Plus definitely the same belly.
Please help ensure Israellycool can keep going,
by donating one time or monthly