Peak Palestinian Reactions to Upcoming Trump Peace Plan
The palestinians don't seem to have taken too kindly to talk that US President Donald Trump will soon release his long-awaited plan for Mideast peace.
And their reactions are peak palestinian.
Reaction 1: "Let's threaten to dissolve the PA (yet again) and force tens of thousands of our own people to lose their jobs!"
Palestinian Authority President Mahmoud Abbas's spokesman, Nabil Abu Rudeineh, suggested on Sunday that the Palestinians could dissolve the PA, after US President Donald Trump indicated that he will release his administration's long-awaited plan to resolve the Israeli-Palestinian conflict this week.

"The leadership will hold a series of meetings on all levels — including the factions and organizations — to announce its total rejection of conceding Jerusalem," Abu Rudeineh told the Voice of Palestine, the official PA radio station, according to the government-run Wafa news site.

The Ramallah-based Palestinian leadership has frequently threatened in the past to dissolve the PA and transfer responsibility for providing services to Palestinians to Israel, but it has yet to take major steps in that direction.

If the Palestinians were to dissolve the PA, tens of thousands of public workers would lose their jobs.
Reaction 2: "Let's threaten to withdraw from provisions of the Oslo accords (again)!"
Other Palestinian officials explicitly threatened to withdraw from key provisions of the Oslo Accords, which define the PA's relations with Israel, if Trump announces his peace plan. Chief Palestinian negotiator Saeb Erekat told AFP that the Palestine Liberation Organization reserved the right "to withdraw from the interim agreement" if Trump unveils his plan.
(I did not realize they were still abiding by Oslo)
Reaction 3: "Day of rage! Hulk smash!"
Palestinian factions on Sunday called for a "day of rage" for the day US President Donald Trump releases his long-awaited plan for Mideast peace.
Time to break out the calendar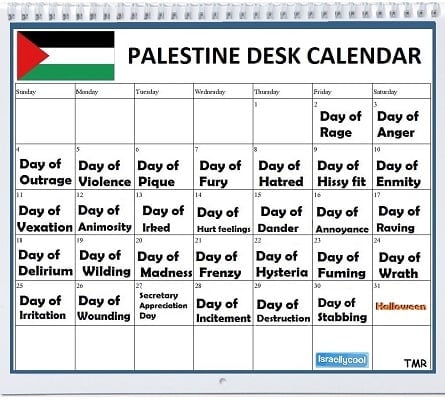 and song.
The Groundhog called. It wants its day back.