Meet Sharon Cooper.
Someone who posts many photos of horses, Sharon likes to paint herself as not only an animal lover but also a humanitarian – which is the reason she supposedly posts pro-palestinian, anti-Israel things.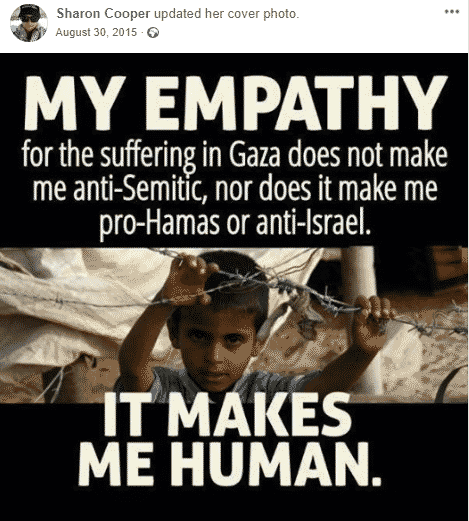 These posts should indicate the type of human Sharon is:
In other words, Jews are beneath even horses to this vile specimen.
What makes this even worse is in 2012, Sharon lost a daughter to suicide, partly because of bullying. This is what she said at the time:
However, she said social media needed to be treated with caution.

"There are grave dangers in bullying on social media," she said.

"On a more wholistic level, we need to not raise bullies.

"Children are born with a clean slate. They're not born racist, prejudiced or bullies, they're taught.
Seems like it is ok to spread Jew hatred – including mocking the deaths of millions of Jews – on social media though.
Sharon, thanks for playing Anti-Zionist-Not-Antisemite. Unfortunately, you lose!