When is an apology a real apology, as opposed to a cynical attempt to keep your job?
I think when it moves beyond just words into real actions.
I have to admit, when I saw Nick Cannon finally apologize for his antisemitic words with this post
I felt it was the latter. After all, he had not only not apologized until then, but he had even demanded an apology and not accepted responsibility for his firing from ViacomCBS.
Then came news that Fox had decided to stick with him as host of The Masked Singer, and I felt even stronger that this was an act of self-preservation.
Besides, how can someone flip so quickly?
But now I am not so sure.
Cannon did not stop at the apology. He announced he would take time away from his other gig, a radio show, to bring Blacks and Jews together
He also interviewed Rabbi Abraham Cooper of the Simon Wiesenthal Center.
And it is coming at a real cost.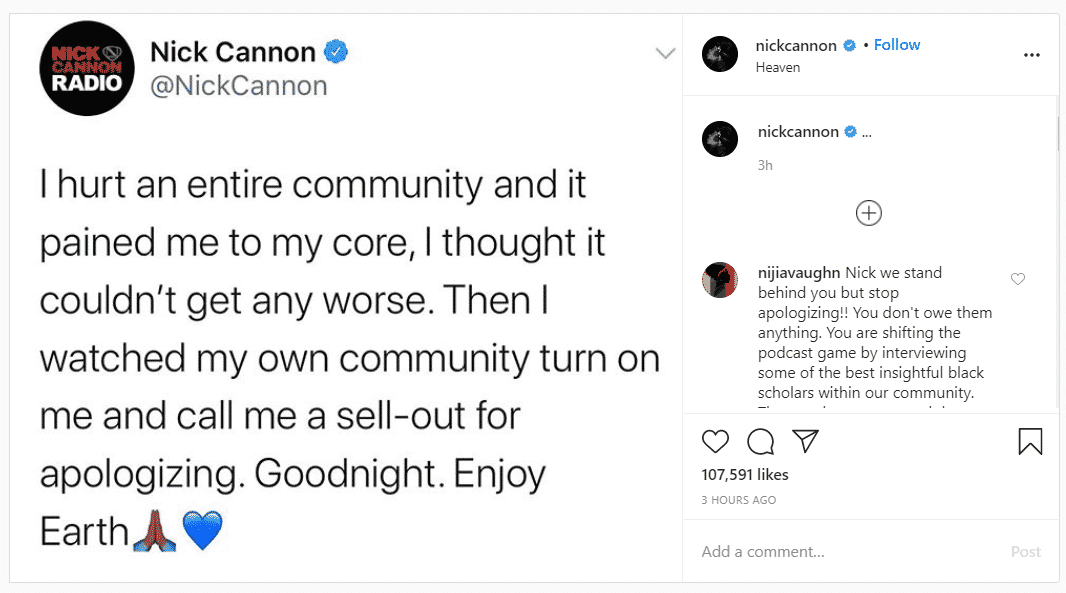 Like most celebrities, I am sure Cannon would love respect and adulation, especially from his own.
If he continues along this path, despite the harsh push-back from his own community (in which antisemitism and ignorance and misinformation about Jews seems to be running rampant) I think we should not only give him a chance, but show our support for his efforts to bridge our communities.
Update: Some readers have said he would need to also repudiate his anti-White comments, as well as promote tolerance between Blacks and Whites. This is a fair point.