On his latest track Only You released yesterday, Drake includes a few lines with Arabic – including a reference to Gaza – leading some Israel haters to get rather excited.
Drake's accent is hard to understand here but I'm PRETTY sure he references Gaza at the end of this clip. As if I needed any more reason to love him

— Rawan (@rawan) July 20, 2020
https://twitter.com/KhaledBeydoun/status/1285322314461122562?ref_src=twsrc%5Etfw%7Ctwcamp%5Etweetembed%7Ctwterm%5E1285322314461122562%7Ctwgr%5E&ref_url=https%3A%2F%2Fwww.middleeasteye.net%2Fnews%2Fdrake-arabic-only-you-new-track-how-twitter-reacted
Except for one problem: he was not referencing that Gaza at all, as he mentions in the song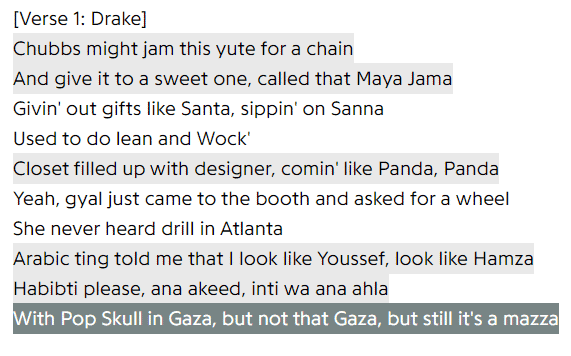 Oops!
https://twitter.com/mojaam/status/1285335047856422912
https://twitter.com/LilNaanX/status/1285352203763568644
At least this guy will be pleased
https://twitter.com/hoemadabh/status/1285427420699471876
I am guessing Drake is going to be receiving even more hate now for crushing their dreams…just like he did a few years ago when he made that "Israel" pun.
As for me, I am relieved this does not seem to be a case of yet another celebrity disappointing me by being on the wrong side of history.
I'll just assume for now that Drake is still a nice, Jewish boy.