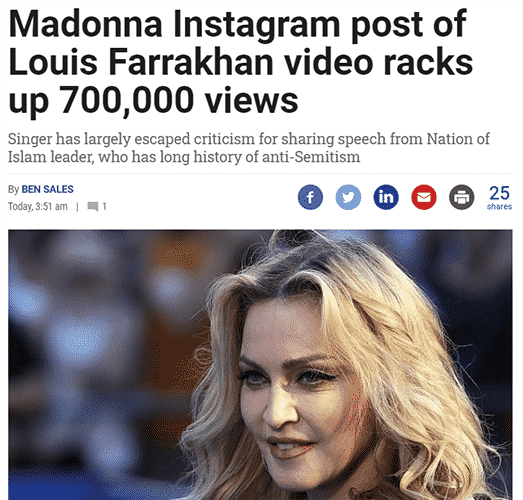 Yesterday, I posted how Madonna went all anti-Israel on her Instagram, mentioning also how she had shared a video of antisemite Louis Farrakhan a few weeks ago.
Much to my chagrin, none of the Jewish media outlets have picked up the story of her anti-Israel posts.
Both the Times of Israel (taking the story from JTA) and the Jerusalem Post (partially taking the story from JTA) completely miss the mark with their reportage, focusing only on Madonna's now two-week old Farrakhan Instagram post.
What makes this even less forgivable is their stories came out even after my blog post went around the world and back.
By the way, the purpose of this post is not to toot my own horn. It is to raise serious questions as to some of the Jewish media outlets, which seem to often just replicate stories from elsewhere without doing their own research.