Richard Silverstein Defends Person Who Threatened to Set on Fire Person Wearing IDF Shirt
A few days ago, video emerged of CUNY Law School student and terror supporter Nerdeen Kiswani threatening to set on fire a man wearing an IDF sweatshirt.
Horrific – a student at @CUNY, Nerdeen Kiswani, threatens to set on fire a man wearing an #IDF sweatshirt.

"I hate your shirt, Ima setting it on fire. I'm serious" she can be heard saying.

We demand this is immediately looked into and the Ms. Kiswani face disciplinary actions! pic.twitter.com/TL1J4JrI63

— StopAntisemitism.org (@StopAntisemites) September 22, 2020
CUNY School of Law seems to have responded in a rather limp-wristed way, releasing this general, vague statement condemning the hate on display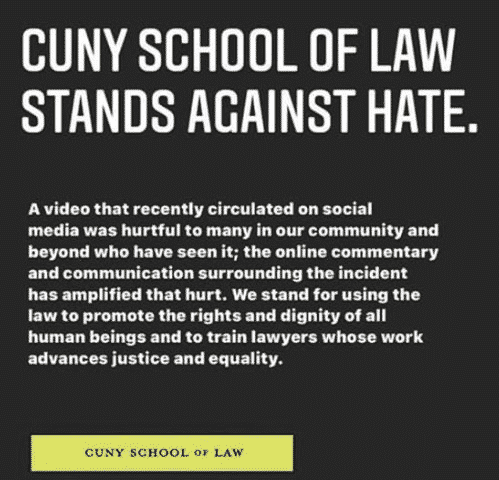 Apparently, this was their third attempt at a statement.
the CUNY Law administration chose to make two public posts on their social media profiles, first declaring that "CUNY Law stands against hate and anti-Semitism," then replacing that with "CUNY Law stands against hate and harassment," before deleting both of the posts, although leaving another "CUNY Law stands against hate" image up on Facebook..
Despite the fact it looks like Kiswani is getting away with it lightly, her fellow haters are not happy – including anti-Israel DouchebloggerTM Richard Silverstein, who has a very interesting way to describe threatening to burn someone wearing an IDF shirt.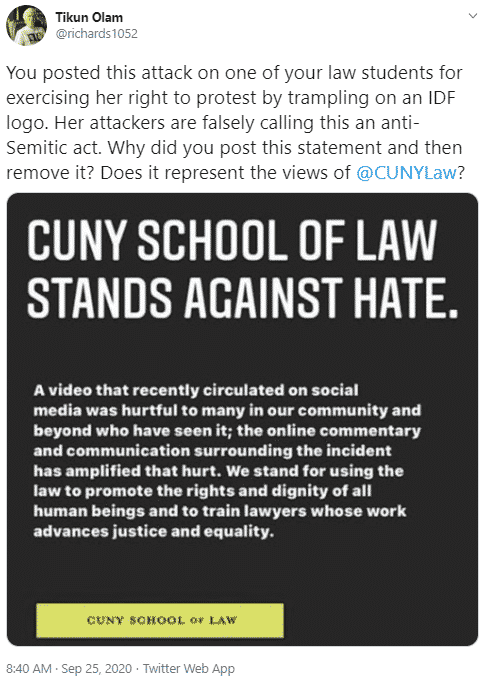 This is not surprising, given he's the master of euphemisms when it comes to his pathological hatred of Israel. He did, after all, refer to an Israel-hater's defecating on an Israeli flag as "political art."
I guess he would call this his eyeballs taking a leisurely stroll away from each other: