Latest Libel: IDF Troops Bludgeoned Palestinian Youth Amer Snobar To Death (Updated)
A young palestinian man has died in mysterious circumstances, and the palestinians have been quick to accuse Israeli troops of foul play.
The Times of Israel reports:
According to the Palestinian Authority Health Ministry, he was shot by Israeli troops while driving his car near Turmus Aya, and then beaten by troops with the butts of their rifles.

He was taken to a hospital in Ramallah, where doctors declared him dead, the Health Ministry said.

"Snobar arrived at the Palestine Medical Complex at 3 a.m., with clear signs of having been beaten and violence on the back of his neck," hospital director Ahmad Bitawi said in a statement carried by the PA Health Ministry.
But the IDF has a different version of events:
The Israel Defense Forces denied opening fire at the man, and said in a statement that his death was the result of a self-sustained injury.

The military said a preliminary probe indicated that Snobar and another young man had been throwing rocks toward an Israeli vehicle on a nearby road, and IDF soldiers arrived and started searching for suspects.

After the forces entered Turmus Aya, two men began fleeing on foot. One of them apparently fell and sustained a head injury from which he subsequently died despite extensive efforts by the troops and IDF medics to save his life, the statement said.

"He was not beaten by IDF forces," the military said.
So who's telling the truth?
As usual, one clue is the fact the palestinians cannot stick to one story and even provide conflicting evidence.
Pictures published by Palestinian outlets showed a car next to what appeared to be drops of blood. No damage from gunfire could be clearly seen on the car.

استشهاد شاب من يتما بنابلس ١٨ عام تمت اصابته بترمسعيا بعد اطلاق دوريات اسرائيلية النار على مركبته خلال ملاحقته واعلن عن استشهاده بعد ان تم نقله الى مجمع فلسطين الطبي pic.twitter.com/bRZNaO2RnU

— حركة فتح (@fatehorg) October 25, 2020

.
Other palestinian sources make no mention of the car being shot
The local sources explained that Israeli forces chased and intercepted a car the young victim was driving at dawn on a road near Turmus Ayya town, hauled him out of the car and embarked on severely beating him with their gunstocks.
While the Times of Israel report and others like Al Jazeera quote palestinian sources stating there were signs of violence on his neck, the Palestinian Information Center adds he was struck also on " the upper area of his chest."
Or was it his head?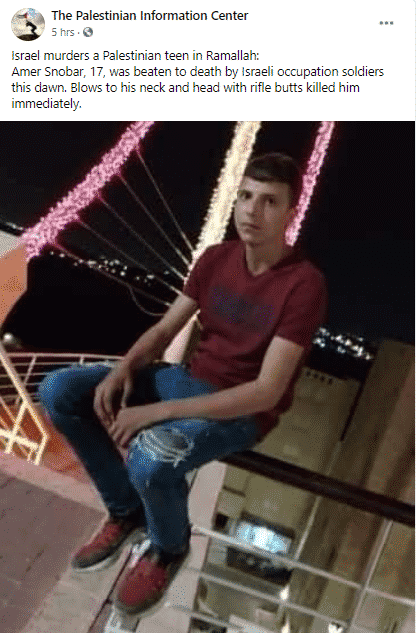 You get the idea. Only liars cannot get their story straight. Besides, we know IDF soldiers do not generally go around murdering palestinian Arabs in cold blood.
Update: His friend contradicts previous versions of the story:
Their car broke down instead of being fired at as previously claimed
The soldiers beat him with sticks, not rifle butts as previously claimed
The soldiers held him by his neck and beat him, contradicting previous versions that they beat his neck
Also interesting how he "managed to run away" yet was only two meters away, which is somehow not near the soldiers.
Despite the obvious falseness of the accusations, the PLO's Hanan Ashrawi is perpetuating the libel
Statement by @DrHananAshrawi on vicious murder of 18-year-old Amer Snoubar: "Such #crimes are perpetrated and perpetuated by Israeli occupation soldiers because they are part of a regime that awards criminality and ensures #impunity for crimes, domestically and internationally." pic.twitter.com/osOB6iwUFj

— PLO Department of Public Diplomacy & Policy (@PalestinePDP) October 25, 2020
as we try to save the life of her friend and colleague Saeb Erekat.
Update: Yet another contradictory version of events.
The 17-year-old eyewitness told DCIP he was driving south from the village of Yatma, located south of Nablus in the occupied West Bank, to Ramallah when the unlicensed car he was driving broke down near the entrance to Turmus'ayya village. Israeli forces noticed the car and approached, while the eyewitness fled into some nearby trees. Israeli forces examined the car for about 45 minutes before moving along.

"When Israeli forces left the area, I rode in a private car back to Yatma, and I contacted Amer to get his help towing and repairing my car," the eyewitness told DCIP. "We drove another unlicensed car from Yatma and pulled the vehicle to the entrance of Turmus'ayya, and I noticed the Israeli forces' vehicle approaching again."

"I was scared so I ran away and yelled at Amer to flee," the eyewitness told DCIP. "I managed to escape but they surrounded Amer, and he immediately put his hands up in a gesture of surrender."

There were six Israeli soldiers surrounding Snobar as a soldier directly behind him placed him in an aggressive chokehold using a baton, according to the eyewitness. Then, the other Israeli soldiers began cursing and beating Snobar with their fists and weapons.

"I walked toward the cars," the eyewitness told DCIP. "I was about 30 meters away from the scene and I could see and hear Amer screaming and crying of pain, but after about four minutes all the screams stopped. I thought they released him, but then I saw four Israeli soldiers carrying his body. They left it near one of our vehicles and surrounded him until the ambulance arrived."
Compare:
He's lying.
In the video he says they charged the car battery but it didn't work, so decided to bring a mechanic; the report makes no mention of any of this
In the video he says his friend ran away towards hospital and was then caught; the report suggests he stood still and was caught
In the video he says there were 5 soldiers (and then changes his mind and mentions 6); the report mentions 6
In the video he says he was two meters away, but in the report it is 30 meters away
In the video he says they beat Amer for 10 minutes and he was yelling and crying; according to the report, he heard Amer screaming but after "about four minutes" all the screams stopped
In the video he says they held him by the neck and beat him with sticks; according to the report "a soldier directly behind him placed him in an aggressive chokehold using a baton. Then, the other Israeli soldiers began cursing and beating Snobar with their fists and weapons"