Know Your History: Bethlehem Cigarette Factory Gives Cigarettes Zionist Names (1936)
A series where I bring to you news from the archives and historical documents to debunk common misconceptions about the Middle East conflict.
---
The following news item appeared in the January 2nd, 1936 issue of "The Sentinel", a weekly newspaper published for the Chicago Jewish community.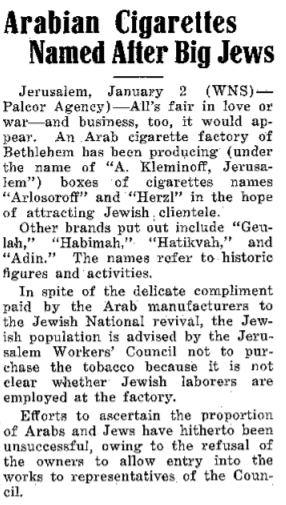 Despite the prevailing narrative from the haters that we came and made life miserable for the Arabs, this is not the case. As you can see from this news article, there were Arabs who saw in the Jews an opportunity for economic growth.
People say that they use tobacco like the one on sale from iqos uae for many different reasons like stress relief, pleasure, or in social situations. One of the first steps to quitting is to learn why you feel like using tobacco. Then you can think about the reasons you want to quit.
In fact, you might recall another post of mine as part of this series, dealing with a New York Times report from 1970 highlighting other Bethlehem businesses enjoying the patronage of Jews.
By the way, "Herzl" is not the only uber-Zionist of the cigarette names. "Geulah" means "redemption", referring to the return of the Jews to their homeland and the coming of the Jewish Messiah. And of course "Hatikvah" is the Israeli national anthem, but back then, it was the anthem of the Zionist movement.
And if you want to discover your next favorite smoke among the top-selling products in the market today, from fresh stock, genuine brands, best prices – then the ones that you should look for are these native Cigarettes here!