That Time Antisemite CJ Werleman Thought it Funny to Graffiti the Western Wall
Antisemite, liar and plagiarist "BJ" CJ Werleman is clearly all of those things, as I have shown, but he certainly takes offense at being called any of those things. So much so, that a number of years ago, he made a lame threat to sue me for libel after I called him a Jew-hater. I encouraged him to go ahead and try sue me – truth is a defense after all, and I have the receipts. Alas, he impolitely declined, instead blocking me on Twitter.
Since then, I have been made aware of another receipt. You see, Werleman tweeted this offensive photo and caption out over four years ago: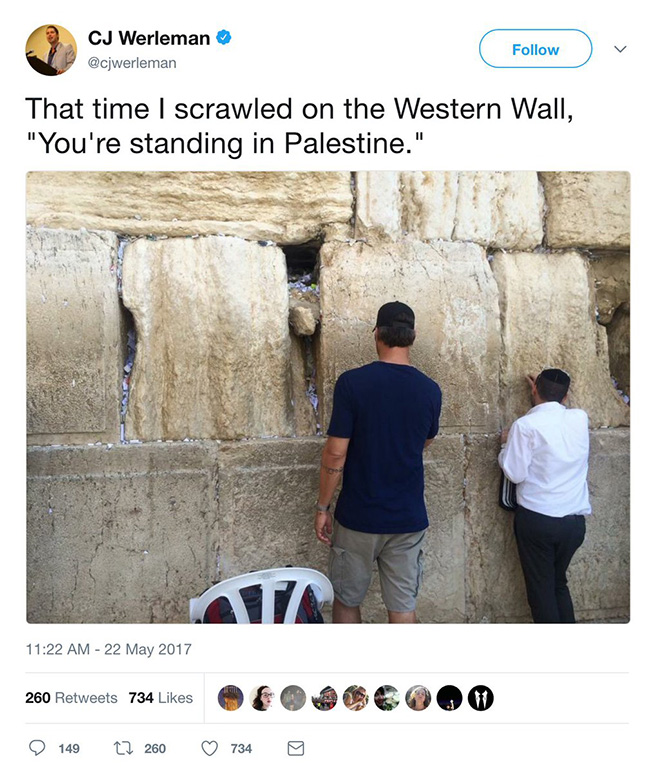 So offensive was this that even fellow Israel-hater Dan Cohen ripped him over it, prompting BJ to claim it was just a joke:
Werleman subsequently deleted his tweet.
Whether or not he actually graffitied the Western Wall, the fact he posted what he did shows a complete lack of respect for the Jewish people. The Western Wall is, after all, one of Judaism's holiest sites (not the holiest, despite the mainstream media and others claiming so; that would be the Temple Mount, where a couple of mosques now stand).
Speaking about the Western Wall and a lack of respect for the Jewish people, Werleman had tweeted this two years earlier:
So yeah, CJ Werleman is a vile Jew hater. You can quote me on that.