Ken Roth Blames Rape on the Victim
Imagine for a second if Ken Roth, the Executive Director of Human Rights Watch, tweeted something like the following:
Can you imagine the uproar? The Squad and others would almost certainly label him an "Islamophobic bigot." Some might even threaten him.
Well, he did not tweet that, but he did tweet this:
To paraphrase Sir Mix-a-Lot, he likes big "buts" and he cannot not lie.
Besides the "blaming rape on the victim" approach, Roth linked to a report that did not even support what he claimed.
British Jews experienced an "unprecedented number of antisemitic incidents" during and after this summer's fighting between Israel and Hamas, the Jewish community's watchdog organization announced on Thursday.
In a report, the Community Security Trust stated that 628 antisemitic incidents were recorded during the one-period between May 8 and June 7, a rise of 365 percent over April and "the highest number CST has ever recorded in any month-long period."

"This was the most intense period of anti-Jewish hatred seen in the U.K. in recent years," the group stated. "It saw record levels of antisemitic hate incidents, anti-Jewish chants and placards on public demonstrations, incitement from radical Islamist extremists in the U.K. and calls from jihadist terrorist groups for Jews to be killed." The organization added that "the level of anger and hate that is directed at Israel always spills over into antisemitism at times of conflict," with British Jews being "held responsible for events thousands of miles away, over which they have no control, simply because they are Jewish."
In other words, antisemitism exists and Jew-haters will blame Jews for their anger towards Israel because they are Jew-haters. I would go further and say their anger towards Israel is motivated by Jew-hate to begin with.
But don't just take my word for it that this report does not support Roth's contention; take the word of Sam Sokol, the journalist who wrote the report: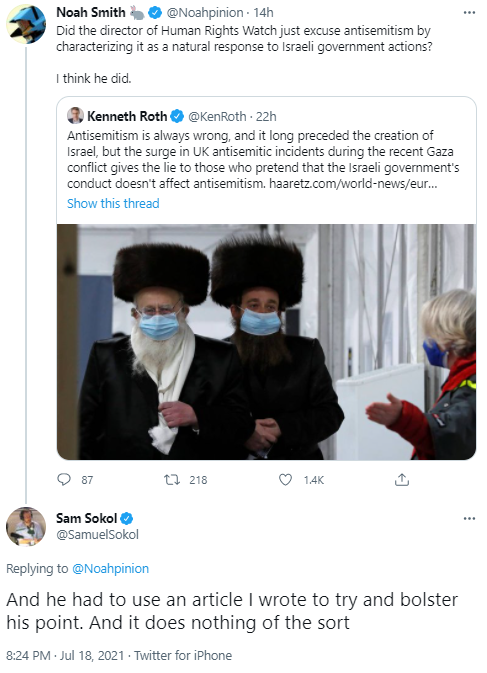 Perhaps so Ken understands better; take Israel-hater and your former Senior HRW Analyst Marc Garlasco:
He didn't respond to his anger at Israel by suddenly develop a fetish for Nazi memorabilia. His Jew-hatred is what motivated both these things.
I hope that makes things easier for you to understand, Ken.
P.S Just like anger at the Jewish state does not cause antisemitism, sucking up to the antisemites like you do does not cause them to like a Jewish person like you.