Pink Floyd's Social Media Accounts Troll Roger Waters on His Birthday
A few days ago, the Pink Floyd accounts on Facebook, Twitter, and Instagram posted a birthday "greeting" to their former bandmate Roger Waters, on the occasion of his 78th birthday. The greeting consisted of a grainy photo of a confused, decrepit looking Waters (i.e. a recent photo from one of his drunk live streams)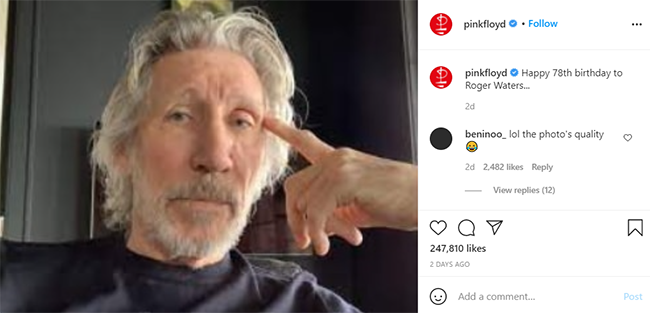 Many, including yours truly, see this as Pink Floyd's David Gilmour "trolling" Waters, with whom he had a falling out and banned from the Pink Floyd social media platforms. In fact, I am 100% certain – the screenshot included is from the very video in which Waters whined about Gilmour banning him from the platforms.
While I applaud Pink Floyd's trolling of Waters and understand why they used a screenshot from this particular video, they could have done a lot better when it came to which photo to include.
So many to choose from, so little time.