Nikki Haley is Right. Wannabe Squad Member Huwaida Arraf is an Antisemite
Former US ambassador to the United Nations Nikki Haley has drawn attention to the fact that Congressional candidate Huwaida Arraf is an antisemite:
And Arraf has clapped back with a retweet of a variation of the "some of my best friends are Jewish" retort:
Nikki is right about Arraf. While she denies she is antisemitic, claiming it is just a tactic to silence supports of "Palestine," she uses antisemitic cartoonist Carlos Latuff to make the point!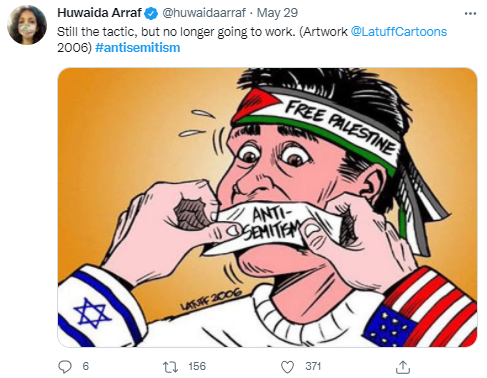 Beyond this, she uses the antisemitic slur "Jewish supremacy", also used by the likes of David Duke: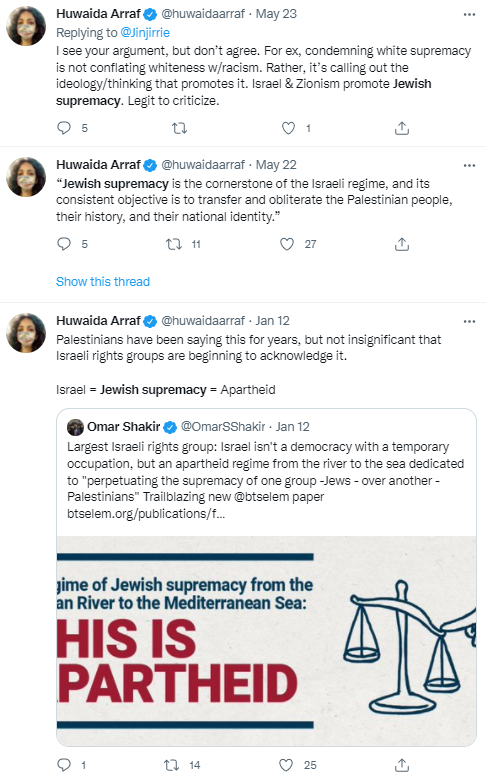 and loves making Holocaust comparisons:

And let's not forget, she was a co-founder of the Free Gaza movement, tainted by antisemitism and antisemites like Greta Berlin and Mary Hughes Thompson (leading to Arraf trying to distance herself from it)
No surprises here, of course. When you support terrorists trying to murder Jews, chances are you also hate Jews. Notwithstanding the fact your husband is Jewish.
Speaking of hubby, any Jew who would marry this drek and support the antisemitic Free Gaza is hardly a good alibi against antisemitism. Besides, Jews can be antisemitic as well: