Mainstream Media and "Human Rights" Groups Continue to Ignore Discrimination By Lebanon
Here's some news from Lebanon the mainstream media and so-called "human rights" groups are ignoring, a day after the following report came out:
A Lebanese man has been given a jail sentence for marrying a Palestinian woman who held Israeli citizenship, local media reported on Friday.

A military court in Beirut sentenced Muhammad Youssef Bannout on Friday to one year in prison and a fine of 500,000 Lebanese pounds ($330). Bannout's alleged crime is that he married a Palestinian woman living in Germany, and who holds Israeli citizenship.

The ruling is based on the 1955 Boycott Law which prohibits any type of dealing with Israeli entities. The vagueness of the law has led it to be applied in a wide range of cases, including to prohibit relations with Israeli citizens or to punish artists and activists for their appearances on Israeli media. 

Around one-in-five citizens of Israel are Palestinian.
To give you an idea as to the double-standards, Human Rights Watch has tweeted against Israel three times since the report came out.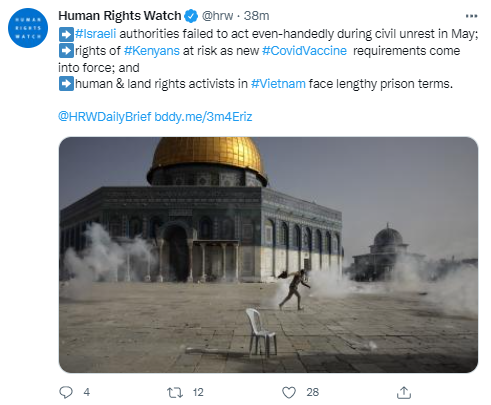 Crickets on this report from Lebanon.
By the way, in case it wasn't obvious, the so-called "palestinian woman" is in fact an Israeli-Arab. Imagine for a second if Israel prosecuted Jewish citizens who married Arab citizens. The mainstream media and so-called "rights groups" would be screaming for blood.
Hat tip: Michal