'Israel Weaponizing Pornography' Libel Raises Its Ugly Head Again
Some social media user who calls himself a "masculinity supremacist" and rails against pornography seems to get his jollies spreading libels – like this one: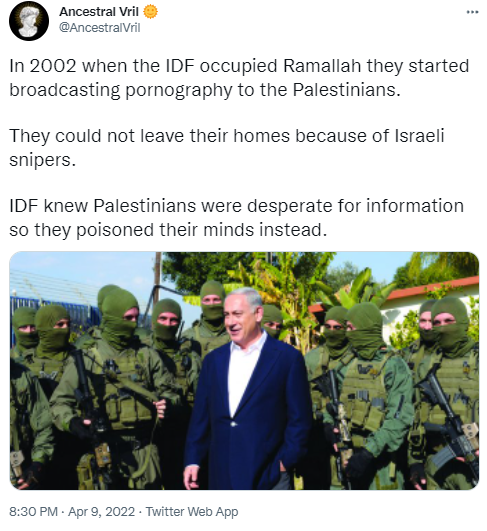 While the CTO of Tablet Magazine remarked
there is nothing new about it. This allegation was actually reported back in 2002, by the likes of the New York Times:
Gunfire sounded throughout the day, and among numerous indignities Palestinians accused Israeli forces of capturing a television station and using it to broadcast pornography.

A United States consulate employee who was in Ramallah confirmed that the programs were on the air. The Israeli Army said soldiers interrupted the station's broadcasting but had not substituted pornography for the usual programming.
While no-one was ever able to prove who broadcast the pornography, you can see how Israel is still blamed by those who already want to blame the Jews. To them, we are guilty until proven innocent, and even if proven innocent, they will claim the "proof" is somehow not credible or substantial enough.
For the record, I posit it is more likely that a careless station employee was responsible. We already know that palestinians were taking to porn more and more, as a 2009 report (which still manages to partially blame Israel, albeit indirectly) shows:
The four men are huddled over a cell phone screen. Its faint color splashes over the stairwell of a dingy shopping center in Ramallah, the de facto Palestinian capital.

In the 30-second video, a man pressures a young woman to perform a sex act. She appears to be a conservative, veiled Muslim, but grudgingly complies. The men watching shift their feet anxiously — being caught watching the clip would bring immediate disgrace.

The men, all in their late 20s, all considered middle-class professionals, watch with eyes sprung open, and with apparent self-disgust. It's the closest thing to sex they've ever had.

In a place where tradition prohibits premarital sex, young, frustrated men are increasingly turning to outlets like cell phone pornography. Some unmarried men seek out Ramallah's few prostitutes, but the vast majority remain virgins, bursting with pent-up sexual energy, until their wedding night.

—

Suhaib, 28, is a researcher for the Palestinian Authority. "When I first watched it," he said after leading this reporter back into a cafe, "it made me desire more and more and more. I felt ashamed by it, and I only watched each video once."

Some of the porn comes from Ramallah and East Jerusalem, typically forwarded from acquaintance to acquaintance. Some of the clips come from as far away as Kuwait.

—

And these days, most urban middle-class Palestinian males say they don't stand a chance of getting married. The Palestinian economy is a shambles, and they simply can't afford it.

—

"People get obsessed with whatever is prohibited, whether it is hunger for food or sexual deprivation."

She adds that Palestinian unemployment and an imploding economy "have caused a lot of communities to regress to being very conservative. Even social interaction between the sexes in school or cafes is not allowed."

While the Palestinian society is more open than many others in the Middle East, there is still much frustration these days and not only for economic reasons, says Bassem Ezbidi, a political scientist at the West Bank's Bir Zeit University. "The political stalemate with Israel and internal violence between Hamas and Fatah also contribute."
Later that same year, we were accused of distributing libido-increasing gum in Gaza – or, as I called it at the time, Zionist Sex Gum of Death.TM
In 2015, a palestinian Arab cleric told viewers of PA TV that Israel spread a "sex craze" around the world and that Jews placed offensive advertisements for penis enlargement products in the media that "crush" the spirits of Arabs and Muslims. He repeated a similar allegation the following year.
So the more things change, the more porn the palestinian Arabs watch they stay the same: the haters continue to strip the palestinian Arabs of all agency; as animals who cannot control their urges, whether it be to watch porn or murder innocent people.