Congressional Candidate Yuh-Line Niou Shows Her Gratitude to Jewish Community… By Supporting BDS
New York State Assemblymember Yuh-Line Niou has come out in support of BDS:
Manhattan-Brooklyn congressional candidate Yuh-Line Niou has endorsed the Boycott, Divestment and Sanctions movement against Israel in her platform — provoking condemnation from a leading opponent and the head of the state Democratic Party.

Niou, a state assemblywoman who represents Chinatown and the Lower East Side, is running for an open seat in the 10th Congressional District that takes in brownstone Brooklyn, parts of heavily orthodox-Jewish Borough Park and downtown Manhattan.

"I believe in the right to protest as a fundamental tenet of western democracy, so I do support BDS," Niou said in an email to the Jewish Insider.

Niou has gained some traction after winning the endorsement of the left-leaning Working Families Party while the socialist left supports the BDS movement against the Jewish State.

But a leading opponent in the congressional race, former Mayor Bill de Blasio, slammed Niou for turning against Israel.

"The BDS movement does not recognize the right or need for Jewish statehood. That is unacceptable," de Blasio said in a tweet.
What makes this even more infuriating is that if Niou is to be believed, she should vehemently against BDS, while supporting Jewish self-determination in our homeland: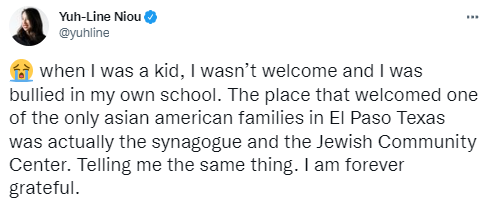 I guess forever felt like too much of a long time for her.
Hat tip: Michal