Mahmoud Abbas' 'Holocaust' Comments in Berlin Are a Gift
In his 1982 dissertation "The Other Side: the Secret Relationship Between Nazism and Zionism," PA leader Mahmoud Abbas alleged, among other things, that the figure of six million dead has been exaggerated for political gain, and suggested one million as a more reasonable estimate. 
40 years later, and it seems that Abbas is a huge fan of inflating numbers and invoking the Holocaust to exaggerate for political gain.
Abbas was responding to a reporter's question about the upcoming anniversary of the Munich massacre half a century ago. Eleven Israeli athletes and a German police officer died after members of the Palestinian militant group Black September took hostages at the Olympic Village on September 5, 1972. At the time of the attack, the group was linked to Abbas's Fatah party.

Asked whether as Palestinian leader he planned to apologize to Israel and Germany for the attack ahead of the 50th anniversary, Abbas responded instead by citing allegations of atrocities committed by Israel since 1947.

"If we want to go over the past, go ahead," Abbas, who was speaking Arabic, told the reporters.

"I have 50 slaughters that Israel committed….50 massacres, 50 slaughters, 50 holocausts," he said, pronouncing the final word in English
Clearly, Abbas and his comments are vile beyond belief. But there is more to this that makes it even more troubling.
For a start, how was Abbas even allowed into Germany at all – let alone so close to the anniversary of the Munich massacre – given his party's involvement in the massacre, not to mention his history of Holocaust denial? He should be persona non grata there.
But given Abbas was let in, anything short of apologizing for the Munich massacre was a disgrace. Yet he went even beyond refusing to do this to make his disgusting, antisemitic comments.
Then there's the fact German Chancellor Olaf Scholz did not immediately rebuke Abbas for his comments. His spokesperson reportedly later said that the press conference had been planned to end with the question to Abbas, meaning Scholz had no opportunity to respond. I call BS on that; of course he could, and should, have interrupted.
The upside of all of this is the round condemnation of Abbas, who has shown his true colors for all the world to see. In fact, former Christian Democrat leader Armin Laschet said Abbas's statement was "the most disgusting speech ever heard in the German Chancellery." And Germany's Bild newspaper carried a headline expressing shock over Abbas' comments, calling it an "antisemitism scandal":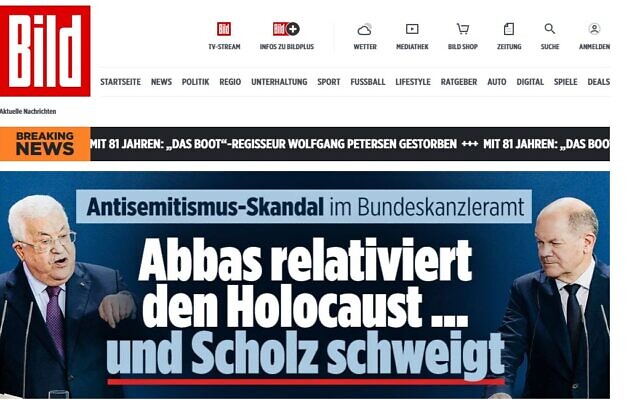 Like in the case of the recent Mapping Project targeting Jewish institutions, Abbas' comments are a welcome gift for us, for they show how "anti-Zionism" and antisemitism are pretty much one and the same thing, not to mention his refusal to denounce the wholesale murder of Jews.
His comments also show one of the real obstacles of peace with the palestinian Arabs – Abbas is supposedly one of their "moderate" leaders, after all.