Ilhan Omar's Deputy Comms Director Finds Kanye West's Antisemitism to be Funny
Meet Isaiah Baehr-Breen, the Deputy Communications Director for Ilhan Omar.
As a Jew – or should I say as a as-a-Jew – Baehr-Breen is quite the "beard" for Omar and her antisemitism.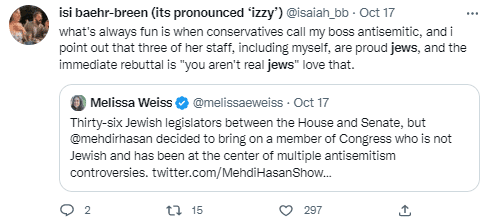 Well, he would be, if he was able to hide his own problematic attitude towards antisemitism.
That's right. He finds Kanye West's vile antisemitism to be oh-so-funny.
I guess he takes after his boss.
Hat tip: Stop Antisemitism