Libel Debunked: Israelis Drank Alcohol and Urinated at Al Aqsa Mosque
Israel-haters have been getting their collective panties in a bunch over another alleged Israeli desecration of Al-Aqsa mosque. The allegations include incidences of "storming", dancing, alcohol and urinating.
I think the "storming" allegation needs no further refutation. But I will concede the Jews are dancing. As for the alcohol consumption, that bottle near the two young men could very well be alcohol, even though it is hard to make out exactly what it is (the Cola is much easier to identify). As for the supposed urination, the young man could very well be praying from a prayer book.
But all of this is irrelevant since the Jews are not at Al Aqsa mosque. They are at the Damascus Gate, which is really not even close: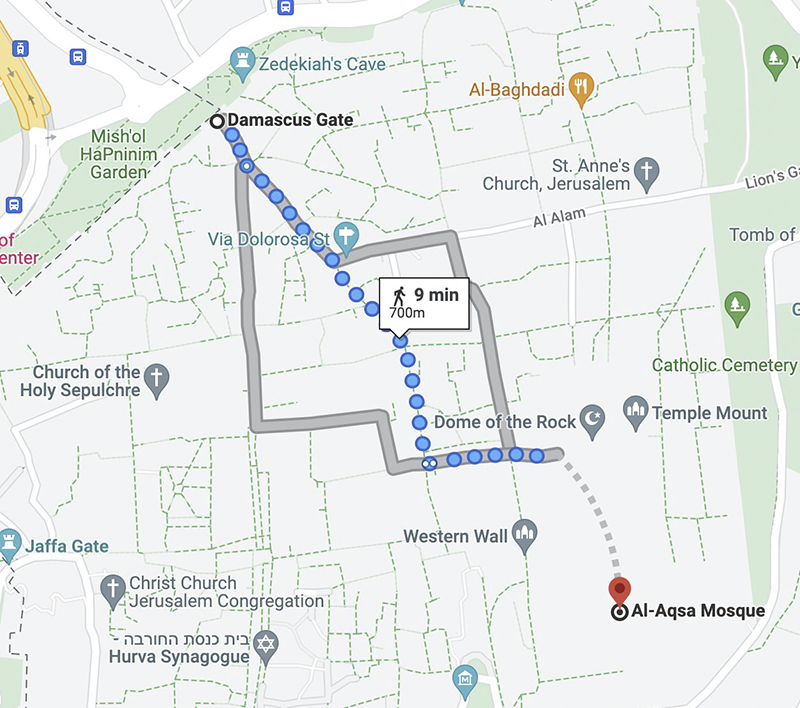 Yup, yet more haters that cannot even properly identify their supposed holy and cherished places.
I know this because I live here and recognize the place. But if that isn't enough for you, even some of the other anti-Israel propaganda sites concede the location is "Bab al-Amoud" (Gate of the Column), which is their name for it.
Plus logic dictates there is no way that could have been Al Aqsa. As I wrote in the past when faced with a similar libel:
it is hard enough for Jews to be allowed on the Temple Mount at all, let alone carrying bottles of alcohol. There are severe restrictions on non-Muslims up there, especially Jews. This includes not being able to bring religious articles, and not being able to pray.

Israel is responsible for general security to the Temple Mount, while the Jerusalem Waqf Islamic religious trust controls the Temple Mount and Al-Aqsa Mosque, including its internal guarding and internal inspection. Between both these bodies, no Jews would be allowed up there with alcohol, and would certainly not be permitted to drink, sing and dance. The site is protected from desecration pursuant to the Protection of Holy Places Law passed after the Six Day War.

The Temple Mount is the holiest site in Judaism – in fact many Jews hold we are not allowed up there at all for fear of accidentally desecrating it. Even if the strict security up there did not exist, religious Jews would never dream of dancing up there intoxicated.
as well as this:
If it had happened, you would definitely have heard about it. We'd like have had a World War III. But that did not occur because the incident never happened.
And let's be frank. The only ones desecrating Haram Al Sharif are the palestinian Arabs.