David Gilmour Joins His Wife in Accusing Roger Waters of Being Antisemitic to the Core
Yesterday I posted how Polly Samson, the wife of Waters' ex Pink Floyd bandmate David Gilmour, ripped Roger Waters, calling him a bunch of bad things including "antisemitic to [his] rotten core." Later, I noticed that David Gilmour himself 'liked' the tweet.
Since then, things have escalated. Waters has tweeted a response, calling Polly's comments "incendiary and wildly inaccurate" while suggesting he is taking legal advice as to his next steps: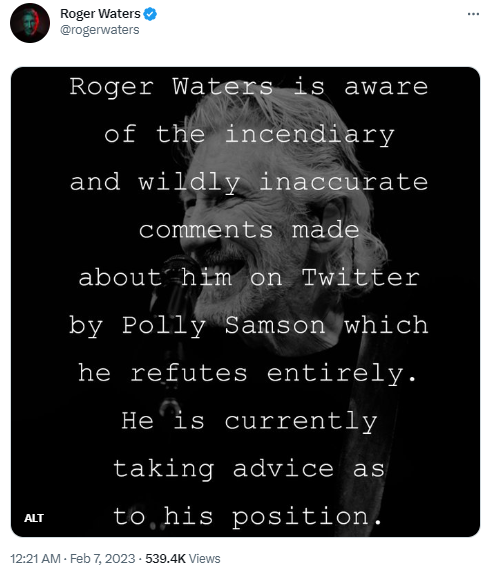 And David Gilmour has added gasoline to the fire:
David Gilmour supporting his wife's contention that Waters is antisemitic may be more significant than we think. Gilmour has shown himself to be no friend of Israel, having supported BDS campaigns and anti-Israel initiatives. So for him, calling Waters antisemitic might be based on more than Waters' public, anti-Israel statements, many of which Gilmour may even agree with.
As I wondered in my previous post about his wife, was he privy to Roger Waters speaking disparagingly about Jews in private?
David, did Waters ever show his antisemitism to you when you were bandmates?

— (((David Lange))) 🇮🇱🇦🇺 (@Israellycool) February 7, 2023
As for Polly Samson, it turns out she has Jewish father. So again, her position that Waters is antisemitic may also be based on things she heard him say beyond the public rants to which we have become accustomed. Although, perhaps it was Water's comparing Israel to the Nazi Germany in the recent interview – from where her father escaped – that did it for her.
All I know is things are about to get real and I am down for it.