Libel Debunked: Jews Backed by IDF Uprooted Palestinian Olive Trees
Israel-haters like Palestine Online have posted video supposedly of "Israeli settlers backed by Israeli forces" uprooting palestinian Arab-owned olive trees: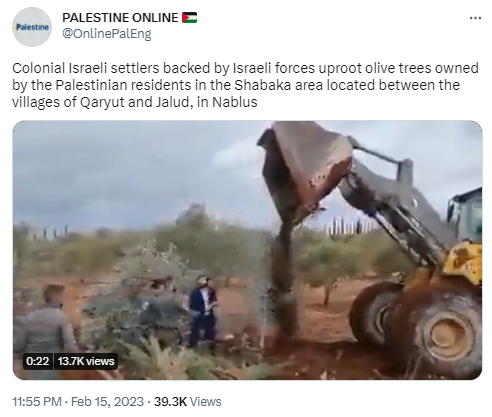 What the video shows is the opposite of what they claim: it is the IDF uprooting olive trees planted by Jews!
Over a thousand trees were uprooted by the Civil Administration at the Nahalat Chen olive grove near Shilo on Wednesday.

The evacuation is the third order carried out in the past month under Prime Minister Benjamin Netanyahu. On Sunday, Border Police evacuated an outpost called Gofna in the Binyamin region of the West Bank. The outpost was established on Saturday night after six families and dozens of youths set up structures at the site.

Last month, forces evacuated the Or Haim outpost in Samaria, sparking outrage from members of the Religious Zionist Party, who boycotted a cabinet meeting shortly afterward.
According to Ha'aretz, this follows 15-years of litigation, and was on the Israeli High Court's orders. The olive trees were supposedly planted by a 'settlement' farm on land claimed by palestinian Arabs.
This is why the man with the Yarmulke appears in the video. He is against the uprooting.
In other words, the Israeli Supreme Court actually ruled in a way benefiting the palestinian Arabs, and these propagandists are turning this around to claim the exact opposite.
They truly have no shame (hat tip: Michal).
Update: