Was Rashia Tlaib's Nakba Event Really Cancelled?
A few days ago, it was reported that Congresswoman Rashida Tlaib planned to hold a "Nakba" event in the Capitol opposing Israel's establishment.
Her partners in organizing the event include organizations supporting the boycott, divestment and sanctions movement against Israel and NGOs that have expressed support for terrorism. For example, Jewish Voice for Peace has glorified the First Intifada in which Palestinians killed close to 300 Israelis, and the Institute for Middle East Understanding lionized the Palestinian Islamic Jihad leader Khader Adnan that died last week after a hunger strike and Ghassan Kanafani, who orchestrated the 1972 Lod Airport Massacre in which 26 people, including 17 US citizens, were murdered.

Events at the Capitol Visitor Center can only be held by request from a member of the US Congress or an Officer of Congress, indicating Tlaib's direct involvement in organizing the event.
Enter US Speaker of the House Kevin McCarthy, who announced the event was cancelled:
But according to Tlaib's fellow antisemite Linda Sarsour, the event is still happening at the Capitol: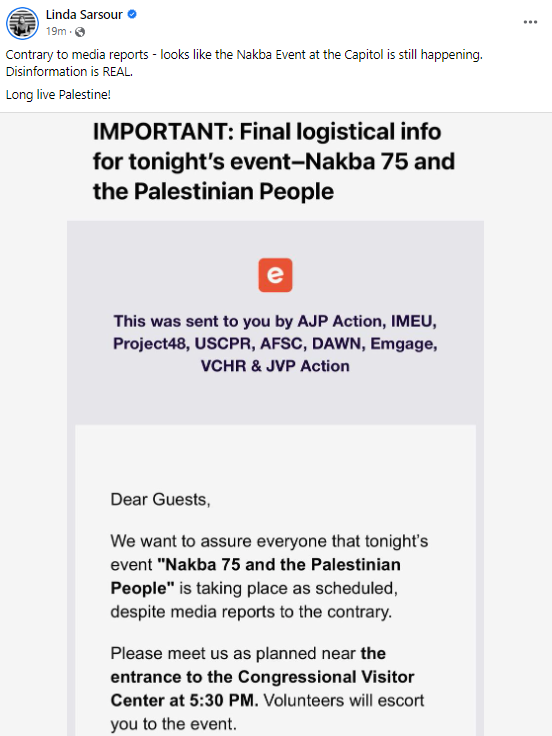 So which is it? I guess we will find out soon enough. And if the event was cancelled and these Jew-haters are trying to barge in, we may (hopefully) see scenes like this again:
What is clear is Sarsour, Tlaib, et al. are determined to hold an event mourning Israel's very existence at the exact time rockets are being fired at millions of Israeli civilians.
Says it all really.