Antisemite Kimberly Hawkins Begging For Money Over Fears She Will Lose Libel Lawsuit
The last time I posted about former Foodbenders owner and antisemite Kimberly Hawkins, she had posted a fake, antisemitic story, which she deleted after I exposed it as fake. My previous post on her before that was yet another blood libel, which I had debunked.
Yes, this is a vile Jew hater who lies, lies and then lies some more.
And her big, lying mouth might just have gotten her into more trouble – and a bigger financial hole than she already finds herself.
Per her latest Instagram post: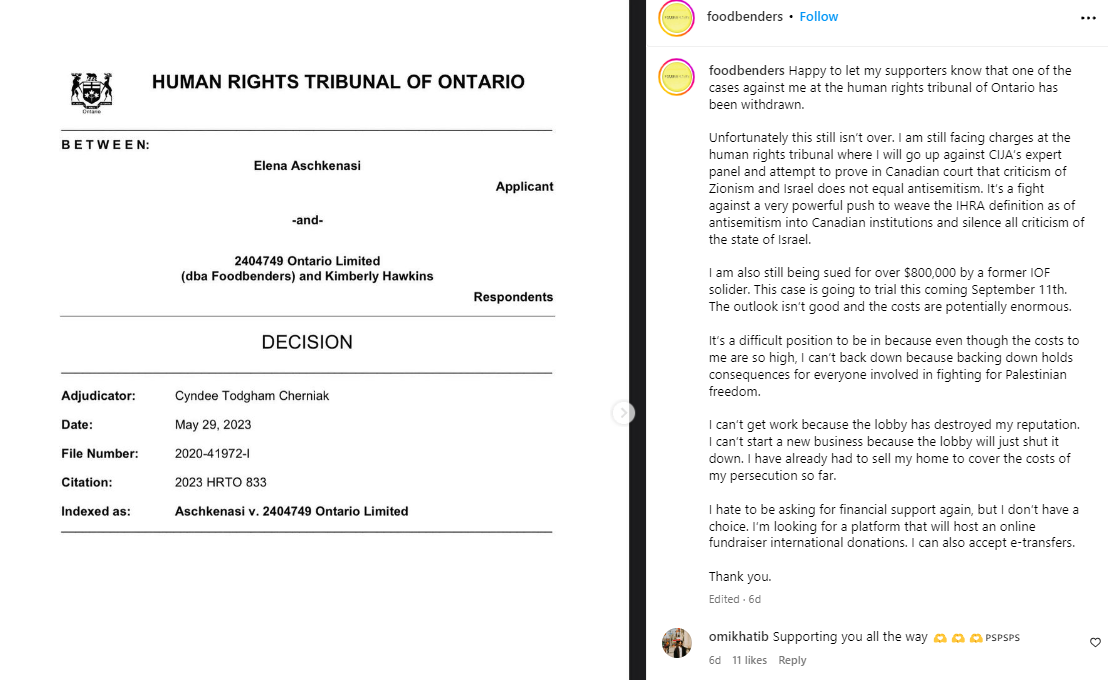 Happy to let my supporters know that one of the cases against me at the human rights tribunal of Ontario has been withdrawn.

Unfortunately this still isn't over. I am still facing charges at the human rights tribunal where I will go up against CIJA's expert panel and attempt to prove in Canadian court that criticism of Zionism and Israel does not equal antisemitism. It's a fight against a very powerful push to weave the IHRA definition as of antisemitism into Canadian institutions and silence all criticism of the state of Israel.

I am also still being sued for over $800,000 by a former IOF solider. This case is going to trial this coming September 11th. The outlook isn't good and the costs are potentially enormous.

It's a difficult position to be in because even though the costs to me are so high, I can't back down because backing down holds consequences for everyone involved in fighting for Palestinian freedom.

I can't get work because the lobby has destroyed my reputation. I can't start a new business because the lobby will just shut it down. I have already had to sell my home to cover the costs of my persecution so far.

I hate to be asking for financial support again, but I don't have a choice. I'm looking for a platform that will host an online fundraiser international donations. I can also accept e-transfers.

Thank you.
The former IDF soldier is my friend Shai DeLuca, about whom Hawkins said some digusting things.
A prominent Toronto designer has launched a $800,000 lawsuit against the owner of the Bloor Street dining establishment Foodbenders, alleging that she libelled him in a series of social media posts that compared him to a terrorist and implied he would shoot Palestinian children.

In a statement of claim — which has not been proven in court — Shai DeLuca said two July 6 posts on Foodbenders' publicly-accessible Instagram account defamed him.

One of the posts copies what appears to be a screenshot of DeLuca's Instagram account, and attaches the statement: "He's literally gathering his other whining Zionist friends to attack Palestinians and others in support of @foodbenders."

A second post features the statement "This guy is one of the people who was attacking @foodbenders. He's an IDF SOLDIER (aka terrorist) yet he's using the BLM movement for likes. How can you sit there and post about BLM when you have your sniper rifle aimed at Palestinian Children."

The statement of claim, filed with the Ontario Superior Court of Justice on July 10, says the statements paint DeLuca as a terrorist, a murderer of Palestinian children, and as such is a criminal and threat to national security — and Shai's "advocacy regarding the Black Lives Matter movement is for nefarious, unlawful and/or violent purposes."

—

Foodbenders' owner Kimberly Hawkins was named in the suit, along with the company. She told Toronto.com in an earlier interview that she is not anti-Semitic, but she is critical of the state of Israel, and supportive of Palestinians in Gaza and on the West Bank, and her statements are forms of political discussion.

—

DeLuca is seeking $500,000 in general and special damages, and an additional $250,000 in punitive damages. He is also seeking a declaration that Foodbenders violated the human rights code for posting comments saying Zionists are not welcome in the store and is seeking an additional $50,000 in compensation and restitution.
Here's hoping she is correct with her suspicion that the "outlook isn't good."
Note how in the above piece about Shai's lawsuit, she claims she is not antisemitic. Now look again at her latest Instagram post and her allegation that an all-powerful lobby holds all the power over her, preventing her from finding a job. Antisemitic trope, much?
Alternatively, you reap what you sow, and this sow is responsible for her own vile words and actions.