A group called Jews Against Zionism tweeted this video today, decrying the IAF they say "murdered" a palestinian civilian:
Video of the #Israeli occupation airstrike that murdered the #Palestinian civilian Naji Ahmed al-Za'anin (25 years) north of Gaza Strip this morning. #GazaUnderAttack pic.twitter.com/LbPPN7VEUo

— #JewsAgainstZionism (@Zionocracy) October 17, 2018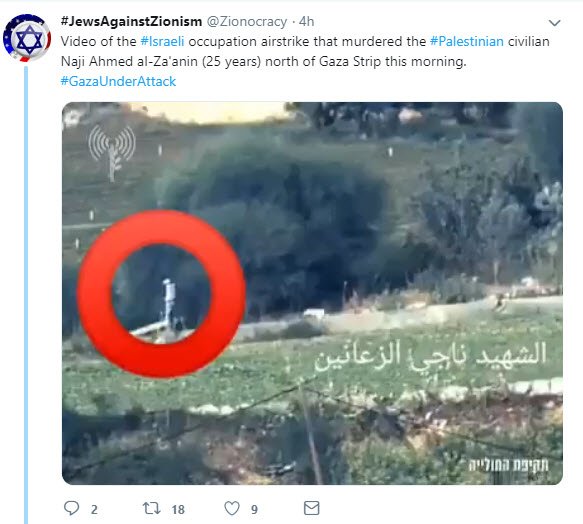 Notice the symbol in top left corner and the Hebrew in bottom right corner? Those are there because the video is from the IDF spokesperson. Except these haters edited it to advance their false narrative.
You see Naji Ahmed al-Za'anin was no innocent, as the full video shows. He was attempting to launch a rocket!
Once again, the haters have to lie and use deception in order to advance their narrative because the truth is certainly not on their side.
Hat tip: Michael
Update: Ma'an goes one better with this headline for a report including the full video:
Please help ensure Israellycool can keep going,
by donating one time or monthly