PA Kills Jew And Wound 5 More
While Christians around the world celebrate Easter, at least one member of the Jewish faith has been shot and killed, and 5 others wounded, for exercising their right to practice theirs.
In Israel.
By a member of the US-trained (and taxpayer funded) PA security forces.
One Israeli worshiper was killed and five were wounded in Nablus early Sunday morning after their vehicle was shot at by Palestinian security forces as they were exiting the city from prayer services held at Joseph's Tomb.

According to Nablus Governor Jabril al Bahri, the shooting attack was a "security incident" and not a terror attack. Bahri said the group of Breslev hassids raised suspicions since they entered the city without prior coordination with the proper authorities. At first shots were fired in the air as a warning and then at the vehicle, he said. Bahri said the incident was being investigated and refused to say if the shooters were Palestinian Authority police.

According to initial investigations, the Israelis were traveling in the area without coordinating their visit to Joseph's Tomb and were reportedly shot at by Palestinian police.

Three vehicles with 15 Breslev hasidim entered the city in the early morning hours for prayer services. On the way back, around 6 a.m. they encountered a surprise checkpoint and were met with a hail of gunfire from a Palestinian jeep. The fire continued even after the vehicle turned back in an attempt to escape. Two of the three vehicles were hit.

The worshipers were able to evacuate themselves to the IDF Samaria district brigade base which was near by and received initial emergency medical care.

The death of a 30-year-old male was pronounced at the scene. A 20-year-old man was injured in serious condition, suffering of an abdominal wound. He was airlifted to Bellinson Hospital in Petah Tikva where he underwent surgery. A 17-year-old youth was evacuated by a Magen David Adom Yarkon crew in moderate condition, suffering a wound to his shoulder. Another youth was injured and evacuated for medical treatment after he was questioned by authorities. Another two were in light condition and were treated on scene.

In February, Public Diplomacy and Diaspora Affairs Minister Yuli Edelstein (Likud) called on Defense Minister Ehud Barak to increase access to Joseph's Tomb, located on the southern edge of Nablus, which has a waiting list of thousands of Jews wanting to make the pilgrimage.

At present, access to the tomb is limited to one nightly trip a month.

In 2009, Palestinians vandalized Joseph's tomb, drawing a Star of David with a boot stamping it on one wall.

In October 2000, at the start of the Second Intifada, Palestinians attacked a small Border Police contingent stationed next to the grave site. One of the policemen was killed after the IDF relied on the PA to evacuate him, in keeping with the Oslo Accords. A nearby yeshiva was ransacked, and holy books were burned.
According to Ha'aretz, the PA is investigating the incident and has detained several of its security officers for questioning.
Even though the visit was not coordinated in advance, consider:
The worshipers were shot at as they were leaving.
If they were encountered by a checkpoint, chances are the PA forces got a good look at them
Murder, plain and simple.
Updates (Israel time; latest at top)
3:55PM: Today's terror victim, 24-year-old Ben Yosef Livnat, who leaves behind a wife and 4 children.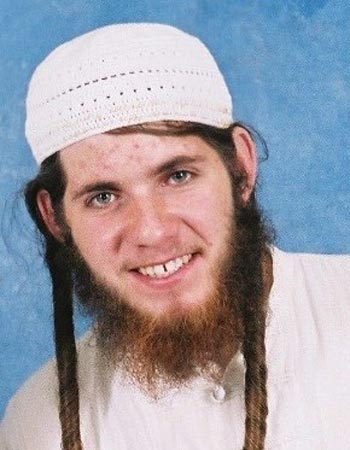 May G-d avenge his blood.
3:32PM: Photographic proof of how palestinians reacted to the murder of a Jew near Joseph's tomb this morning.
Nice how they respect our holy sites as much as they respect human life.
3:08PM: A PA spokesman has refused to apologize for today's murder, saying settlers are "not normal people."
Jewish settlers in Israel "are not normal people" and therefore there is no need to apologize for the murder of a Jew who prayed at Kever Yosef (Joseph's Tomb) Sunday morning, according to Palestinian Authority security forces' spokesman General Adnan Damiri

He also claimed the victims of Kever Yosef attack may have been armed.

In an unusually provocative interview with Voice of Israel government radio, he said he could not confirm or deny eyewitness reports that Palestinian Authority policemen shot at five Jews who were on their way home from praying at Kever Yosef (Joseph's Tomb) early Sunday morning.

"We have not said they were or were not" PA policemen, Damiri said, contradicting all reports in both Arab and Israeli media, where the attackers were identified as PA policemen.

Asked if the PA will apologize for the murder of Ben Yosef Livnat, he answered, "You know that settlers are not normal people. Every day, they shoot at innocent Arabs."

New anchor Estie Peres, departing from the usual Voice of Israel's negative view of a Jewish presence in most of Judea and Samaria, said she did not agree with his statement that "settlers are not normal" and asked Damiri if there was justification in shooting at people who had been praying and were on their way home.

"Maybe they were armed," Damiri responded.

Further questioned if the PA will "make peace with settlers," he declared, "There is no room in the Palestinian Authority for settlers."
Peace!
3:00PM: Limor Livnat, Sports and Culture Minister and aunt of terror victim Ben-Yosef Livnat:
"My brother's son was murdered by a terrorist camouflaged as a Palestinian police officer, for no more reason than his wish to pray, he was innocent."

"A young man whose sole purpose on the eve of the Second Pesach holiday was to pray, was vilely murdered in cold blood, and left behind a wife and four orphans,"
10:38AM: Ma'an has now removed their ridiculous claim that the IDF shot the worshipers, but kept their claim the worshipers pulled weapons on the PA forces.
10:08AM: Arutz Sheva reports:
Speaking to reporters Sunday morning, one of the Bresolv Hassidim who was in the vehicle shot at by PA police earlier outside the Tomb of Joseph said that it was clear that the PA police were shooting to kill. "They fired several long rounds at our cars, and yelled 'Allahu Akhbar.' There is no doubt they were shooting to kill us," the witness said.
10:02AM:Ynet is now also reporting that palestinians set the Joseph's Tomb compound on fire.
9:55AM: Hamas has put its dispute with Fatah aside to report the attack, ending it with this little doozy:
The Israeli Forces pulled out of Joseph's Tomb in 2000, at the beginning of the second Palestinian Intifada. It should be mention that the Israeli forces took the tomb as an excuse to restrict the Palestinian movement in that area and keep annoying Palestinian, this tomb is representing a religious symbol for the Muslims in Palestinians.
I guess this is why they tried to burn it down.
9:50AM: Arutz Sheva reports that dozens of Arabs were rioting around the Tomb of Joseph this morning, burning tires and holding torches, and trying to approach the building to burn it down. I assume they were not rioting to protest the murder of one Jew, unless their issue was the others got away.
9:42AM: Ha'aretz news ticker: Palestinian police: Officer who shot at Israelis says they were acting suspiciously.
No mention of them pulling out guns or being shot by IDF soldiers as Ma'an News would have you believe.
9:35AM: Arutz Sheva reports that the murdered Israeli was 24-year-old, father of four, Ben-Yosef Livnat, nephew of Israeli minister Limor Livnat.
9:30AM: The palestinian Ma'an News agency claims the worshipers pulled out guns on the PA forces and they were killed by IDF forces!
The Palestinian officers told them they were not allowed to be there without coordination, but they did not obey the orders. Instead, they pulled out their own guns and pointed them toward Palestinian officers.

Security forces first fired warning shots into the air, according to Palestinian officials. Confused by the fire, Israeli soldiers at a monitoring tower on At-Tur Mountain opposite to the area fired back in the direction of Joseph's Tomb, killing one settler and injuring three others, the Palestinian officials said.
Utter nonsense.