I'm Shocked, Shocked I Tell You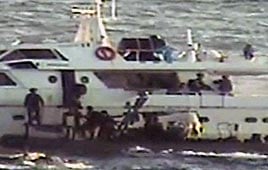 Who'd have thought?
Friday saw the INF hail the Irish and Canadian vessels to stop, duly warning them that they were about to breach the maritime siege placed on Gaza. When the ships refused to stop or turn back, naval forces intercepted them at sea. The activists did not resist and no one was hurt

The IDF said that while no weapons were found on the ships – neither was any humanitarian aid.
Meanwhile, with the whole flotilla exercise being a complete flop, some are desperately trying to keep the spotlight on Israel.
Palestinian Israeli Majd Kayal, delegate aboard the captured Canada Boat to Gaza and recently released from Givon Prison, confirms the IDF's "peaceful" take-over of the Tahrir was anything but peaceful. An IDF video clearly shows the Israeli military firing a water cannon at the Tahrir on rough seas, endangering the lives of those aboard. Delegates offering non-violent resistance to the takeover of the civilian ship in international waters were threatened and then beaten by soldiers. One delegate, 45-year-old David Heap, professor at the University of Western Ontario, was particularly badly beaten. Israeli prison authorities are continuing to prevent Heap's family from contacting him by phone.

"As a Palestinian, I was not surprised at how the IDF treated us," said Kayal, after his release, noting this kind of abuse is a daily reality for the 1.5 million people of Gaza, who are indefinitely detained in an open-air prison. "However, for the Canadians and other Westerners onboard, it was a complete shock."
Word of advice: If you are going to lie, at least keep your message consistent.
The activists on the Canadian and Irish vessels are expected to arrive at Ashdod at 7 p.m. local time today and will be sent to an Israeli prison before being seen by consular staff, Medea Benjamin, one of the flotilla organizers, told reporters in a teleconference. There was no violence during the boarding and the activists offered no resistance, she said.