Liar Liar, Mosque On Fire
If you missed the excitement on Twitter over the weekend, Ali Abunimah of Electronic Intifada decided to take a page out of the malevolent, incendiary, rabble-rousing book of Haj Amin Al-Husseini, the 'Grand' Mufti of Jerusalem in the early 20th century.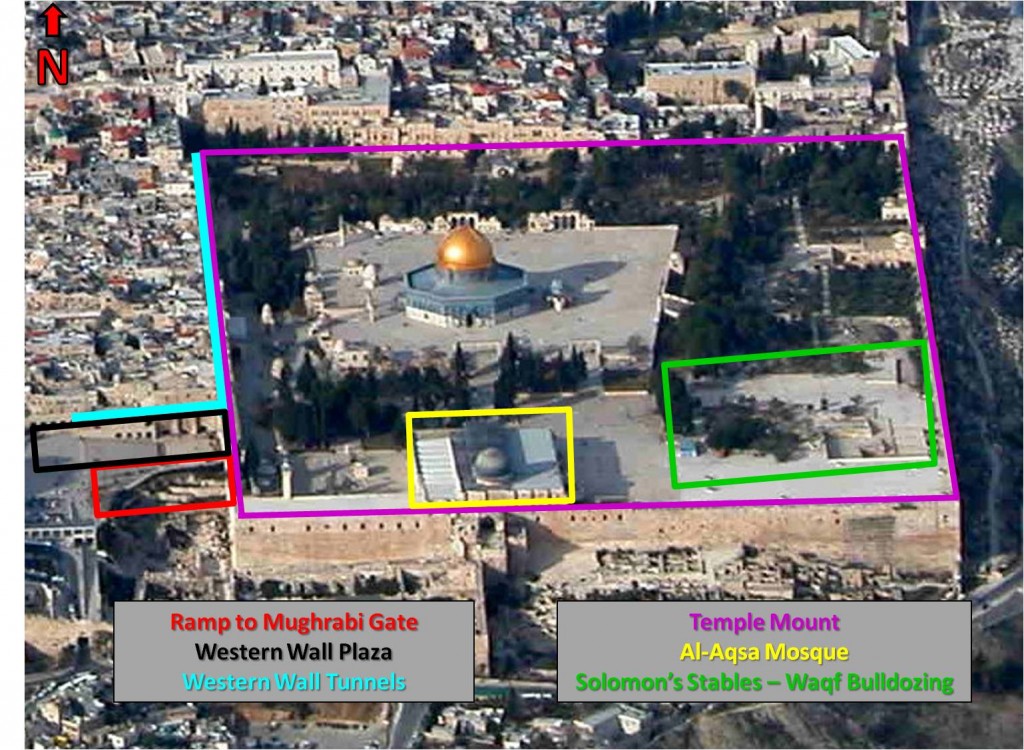 The Warped Mirror: Al-Aqsa incitement from the mufti to Ali Abunimah.
It's a perennial hit: Haj Amin al Husseini, the Mufti of Jerusalem, who later gained notoriety as a Nazi collaborator, did it already in the 1920s; senior Palestinian leader Marwan Barghouti did it in 2000; and now Ali Abunimah is doing his bit to keep the tradition of spurious claims about Jewish threats to Al-Aqsa alive.

On his Electronic Intifada blog, Abunimah has a post announcing that Likud leaders plan to go to Al-Aqsa, that they are calling for "cleansing" Jerusalem and building a Jewish temple instead of the mosque. At the bottom of the post there is an update that sort of acknowledges that there is no basis to the story, but unsurprisingly, this doesn't prevent Abunimah from concluding:

There's certainly no doubt that whoever published this flyer – which was taken as real by the Israeli media – is tapping into a history of calls and growing support for destroying Al-Aqsa. Feiglin's supporters too are clear about their desire to take over the Temple Mount.

When I looked at the post, it had just over 100 tweets and some 150 Facebook endorsements. Hitler's mufti would have loved such an efficient way to spread his incitement.

Here are some screenshots documenting the spread of Abunimah's tale in the Twittersphere (click to enlarge):

As Abunimah knows full well, since 1967, Israel has treated the Temple Mount very differently from how the Jordanians treated Jewish holy sites before 1967. Here is a short summary:

Today, an Islamic Waqf, or religious committee, manages the Temple Mount, though Israel provides security and upholds decisions made by the waqf about access to the site.

For Jews, visiting the Temple Mount is a very controversial subject- both in terms of religious allowance and because non-Muslim prayer is prohibited at the site. Although freedom of access to the site is enshrined as law, Israel does not allow non-Muslim prayer on the Mount so as not to offend Muslim worshippers. Beyond this, many rabbi's say that since the Jewish Temple's Holy of Holies stood near the center of today's Temple Mount, Jews are religiously forbidden from entering the area.

Arabs can enter the Temple Mount through one of ten different Muslim-only gates from various sites in the Old City. Tourists and Jews are only allowed access to the site through the Mugrabi Gate which is located just above to the left of the Kotel, or Western Wall plaza.

I outlined the tradition of incitement that Abunimah is now so eagerly adopting on my Jerusalem Post blog in October 2009; the (currently inaccessible) post is reproduced below, with some of the links that are no longer functional in […]. Additional examples of this "tradition" can also be found here.
As usual, Elder adds his own take, including several additional documented examples of Al-Aqsa-related incitement here.
And of course, if you've read Mordechai Kedar's illuminating piece in the Jewish Press, you'll know that the incitement Al-Aqsa engenders isn't the only phony thing about it.