Rajaa Abu Shaban: Death By Swing Or Car?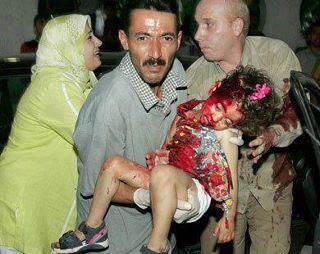 Israeli Ambassador to the UN, Ron Prosor, has formally requested that the UN Office for the Coordination of Humanitarian Affairs (OCHA) fire its national officer in Jerusalem, Khulood Badawi, over her tweeting a picture of palestinian girl Rajaa Abu Shaban, supposedly killed in Gaza last week.
As I pointed out at the time (and subsequently others, like the IDF Spokesperson), the girl died over 5 years ago, in an accident totally unrelated to Israel. According to the original retraction by AP, she "apparently died after sustaining head injuries during a fall from a swing."
Unfortunately, Ynet's report may only muddy the waters, as it contains this statement:
The Twitter message, which was a huge hit, claimed that the Palestinian girl had died from an Israeli airstrike the day before, but an Israeli examination of this claim found that the girl was killed in a car accident in 2006.
Is this a case of Ynet sloppiness or has the IDF changed its tune? I believe it is the former, especially considering the fact the IDF blog linked above repeats the "death by swing" reason.
While this does not change the facts that the girl's photo was cynically exploited by a UN employee with a clear anti-Israel agenda, I am bothered by the inconsistency – not just because of my desire for the truth, but also because it is this kind of sloppy error that can be exploited by the other side.