Gazacitis
Yesterday, a one-and-a-half year old child was killed because she was used as a human shield for terrorists operating in the Gaza Strip. She was killed and her brother was injured when something exploded next to them, probably a failed rocket launch.
As Ma'an English wrote:
GAZA CITY (Ma'an) — A Palestinian toddler was killed Tuesday evening in an explosion south of Gaza City, medics said.

Emergency services spokesman Adham Abu Salmiya said in a statement that Hadil al-Haddad, 2, was killed and her brother was injured in the Zaitoun neighborhood of Gaza City.

A Hamas medical official told Reuters the cause of the child's death was not clear. Witnesses said she was killed when militants launched a rocket close by.

An Israeli military spokesman told Ma'an the army had not attacked that area. He said the army's initial investigation suggested al-Haddad's death was caused by a failed rocket launch by Palestinian militants.
Even BBC's Jon Donnison changed the usual anti-Israel rhetoric by admitting that Hamas was responsible for her death: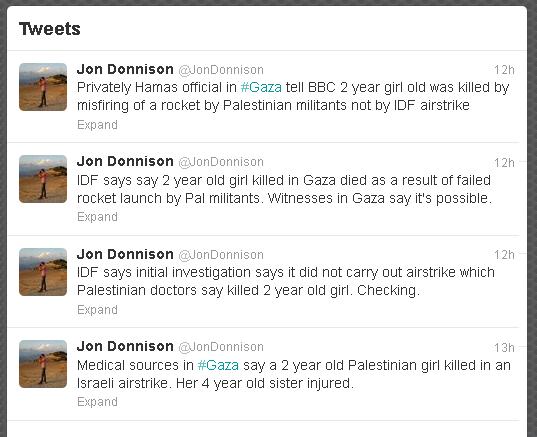 But when it comes to the Twitterverse, Gazacitis supplants the truth. The facts, the admission of Hamas that the death was not caused by an IDF strike, the reports in Ma'an (though not Ma'an Arabic) they were killed in a populated area, are all something to ignore in the quest to demonize Israel: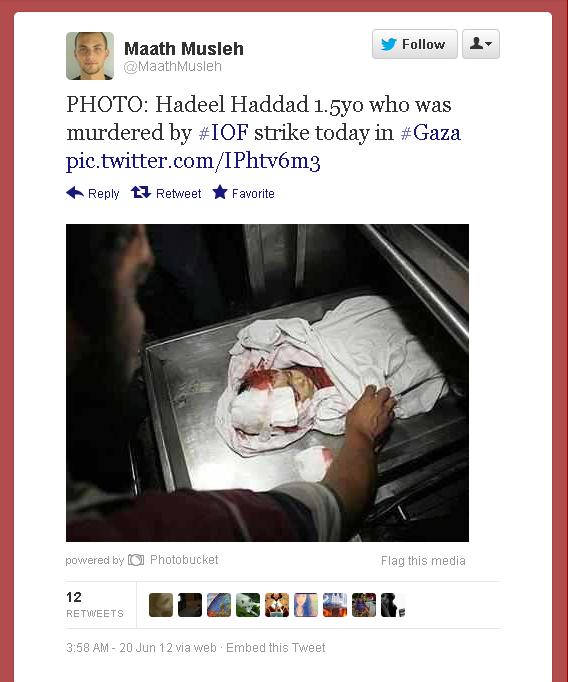 This photo was tweeted several times, each with a similar caption, and each re-tweeted a dozen times.
This is certainly not the first time the anti-Israel mob has been caught tweeting false photo in relation to kids killed in Gaza.