In the past week, some 50 rockets were fired by terrorists in Gaza on Israeli civilians. One of them hit Netivot:
Following the IDF twitter gives you a very good understanding of the situation: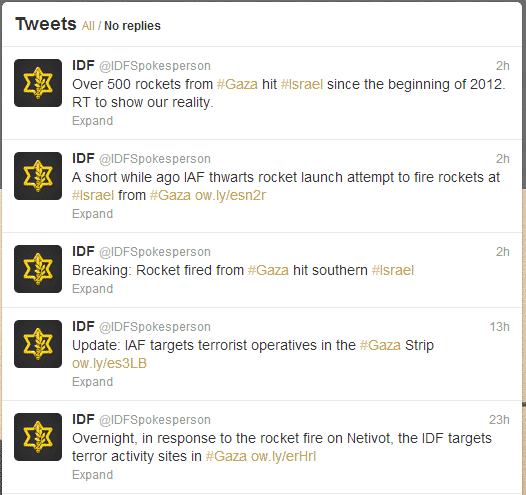 However, if someone was trying to find the news on CNN, they would have only seen a hopelessly skewed image of Israel attacking Gaza
An Israeli airstrike Saturday killed two members of a Palestinian resistance committee in northern Gaza, according to Palestinian security sources.

Three others were wounded in the strike in Jabaliya, the sources said.

One of those killed was Hisham Al-Saidni (also known as Abu Walid al-Masri), head of the Salafists in Gaza and Sinai, which is known as Majlis Shura Al-Mujahideen, the Hamas security media office said.

He was targeted while he was riding a motorcycle in Jabaliya north of Gaza City, the Hamas security media office said.

An Israeli military spokesman confirmed the airstrike.

In a statement, the Israel Defense Forces said the aircraft targeted "terror operatives of the Hashora Council of the Mujahideen, a Gaza-based Global Jihad affiliate."

Ashraf al-Qidra, a spokesman for the Hamas health ministry in Gaza, said one of the bodies was decapitated in the strike. A civilian and 10-year-old child were also injured, he said.
So there you have it, terrorists spontaneously explode when riding a motorcycle. No need for explanation and no need for a causation.
Please help ensure Israellycool can keep going,
by donating one time or monthly