Hamas Does Hasbara
As you know, one of the best sources for news and images are the Palestinian forums and message boards, though one has to go through pages and pages of anti-Israel and anti-Semitic propaganda, before you can find one good image or snippet of information.
Nevertheless, every now and then, the propaganda backfires.
In this cynical picture thread about IDF "invincibility", we can see photos of wounded soldiers, funerals of fallen soldiers and photos of IDF personnel ducking and taking cover when a siren that warns of incoming rockets from Gaza goes off.
Then there's this image: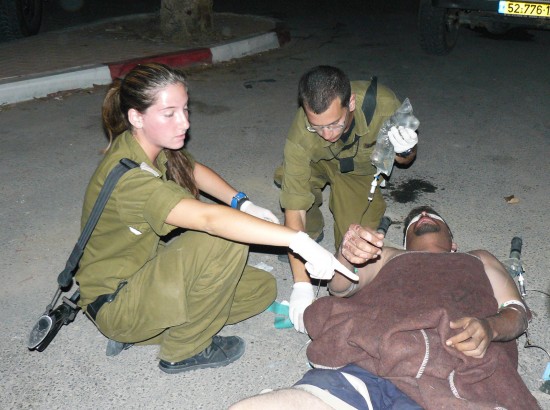 With a little bit of internet wizardry, I found the truth behind this image:
NAHAL OZ, ISRAEL – AUGUST 2: In this handout photo provided by the Israeli Defence Forces (IDF), IDF medics treat a wounded Palestinian man shortly after Israel allowed some 150 Fatah fighters to flee from Hamas gunmen in the Gaza Strip during the night on August 2, 2008 at the Nahal Oz crossing into the Jewish state. In a rare move, Defence Minister Ehud Barak authorized a total of 150 un-armed Palestinians to cross in to Israel for refuge including about a dozen wounded who were taken to hospital for treatment.
A little bit less internet wizardry, would have informed the Hamashole that posted that image, that the photo's name is "Flickr_-_Israel_Defense_Forces_-_IDF_Soldiers_Treats_Palestinian_Man", and that ripping images of the Algemeiner is a no-no.
Then again, there's an open battle between Hamas and Fatah for Terrorist Organization of the Year presidency in the PA, so brandishing one another as "Zionist" is not inconceivable.