Shameful Op-Ed By Times Of Israel Founding Editor David Horovitz
Last week UNSC resolution 2334, which condemns Jewish settlements in the West Bank as illegal (including Jerusalem), was passed after the US' infamous abstention. The ramifications of this outrageous resolution will be felt for a long time, and the implications for Israel and any peace process could be grave. So it is understandable that Israeli Prime Minister Binyamin Netanyahu reacted harshly, taking actions including summoning the ambassadors of the 12 yes-voting countries, summoning home ambassadors from Senegal and New Zealand, cancelling a meeting with British Prime Minister Theresa May, and cancelling a visit to Israel this week by the prime minister of Ukraine.
You needn't agree with him, but you should be able to understand why he did it.
David Horovitz, the founding editor of The Times of Israel, decided to react to these events by writing an op-ed – focusing his outrage on Netanyahu's actions.
Entitled Netanyahu goes to war with the world, it is an embarrassing, misguided screed accompanied by a photo of our PM designed to make him look shady. I can imagine Neo Nazi sites downloading that photo as we speak.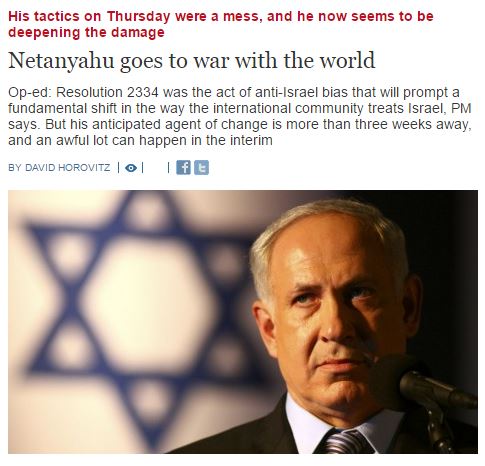 Here are some of the "lowlights":
Netanyahu's repeated public assertion is that US President Barack Obama hatched the entire scheme to humiliate and abandon Israel at the Security Council. Why would a president who had just authorized the biggest military aid package to Israel in history do any such thing? Because, the prime minister has implied, Obama is fundamentally hostile to the Jewish state. Netanyahu hasn't (yet) said this explicitly. He has, however, drawn a parallel between Friday's decision by Obama to abstain, and thus facilitate the passage of UNSC Resolution 2334, and similar action by president Jimmy Carter at the Security Council in 1980, and noted that Carter was "deeply hostile to Israel."

—

The administration insists, by contrast, in the words of deputy national security adviser Ben Rhodes, "We did not draft this resolution; we did not introduce this resolution. We made this decision when it came up for a vote."
Horovitz casts doubt on our claims that Obama ambushed us, based on his own "logic," even though Netanyahu and his spokespeople have clearly said we have incontrovertible proof of this. But he does not mention that fact, only the Ben Rhodes denial (which I pointed out in a previous post was carefully worded). There is no critical thinking apparent here – just a critique of Netanyahu.
Outrage aside, however, the failed pre-vote diplomatic maneuvering by Netanyahu gives credence to those of his critics who argue that he has entered panic mode. For all the serenity and confidence he exudes in his public appearances, and for all that he is appeasing parts of his right-wing constituency — a critical imperative for retaining power — his tactics on Thursday were a mess, and he now seems to be deepening the damage.

While you might justify calling in the next president to thwart the current president if you've thought the high-risk gambit all the way through, you're going to look worse than foolish if you fail to do your homework and wind up losing.

And that's exactly what happened. Trump answered Netanyahu's call, reached out to Egypt's President Abdel-Fattah el-Sissi, and the resolution was withdrawn. A Pyrrhic victory. Within hours, Senegal, Venezuela, Malaysia and New Zealand had stepped in to advance the very same resolution, and there was nothing that even the president-elect could do about that. So Trump wasted his pre-presidential capital, Sissi was humiliated, and Israel lost the vote
The Sissi resolution withdrawal was stunning, much like Horovitz's ability to ignore this fact and cast a negative light on it. He also assumes the response to this was predictable – I do not recall any commentators predicting it after the resolution was withdrawn, and certainly none on his beloved website.
Note how he mentions Senegal, Venezuela, Malaysia and New Zealand reviving the resolution – but not the US' likely involvement in this.
Netanyahu, and those advising him, might be sensibly dismayed by Trump's dispassionate response to the setback. Initially, at least, there was no fervent defense of Jerusalem as Israel's capital, no pledge to reverse the pernicious decree, just a mild, rather ho-hum tweet on Saturday, that the "big loss yesterday for Israel in the United Nations will make it much harder to negotiate peace. Too bad, but we will get it done anyway!"
Here, Horovitz includes a tweet by Donald Trump, which is clearly in support of Israel. Yet again, he characterizes it in a negative way for Israel and Netanyahu. But perhaps more tellingly, he omitted Trump's earlier tweet.
No-one could characterize this as a "dispassionate response to the setback" – in fact, it is a very strong statement of his intention to have Israel's back when he comes into power. Which is probably why Horovitz left it out.
Yet Netanyahu has taken them all on. With a lack of courtesy he would rightly castigate if the tables were turned, he summoned the ambassadors of the 12 yes-voting countries with which Israel has diplomatic relations for a dressing-down on Christmas Day. Imagine the outrage were a host country to call in the Israeli envoy on, say, Rosh Hashanah.
Why is this the huge outrage here, which draws Horovitz's ire, way more than the resolution that seeks to negate Jewish history and religious faith? Surely the latter is way more indicative of insensitivity to those of a particular religious faith.
And even if you do see the timing aspect as betraying a certain insensitivity, he could also have pointed out how the UN waited to pass this resolution on the Jewish Shabbat. At least if he wanted to be consistent.
Likewise, he chose not to arrange a meeting with Xi Jinping, the president of China, a country with which Netanyahu has striven for years to bolster relations. He summoned home his ambassadors from Senegal and New Zealand. He cancelled a visit to Israel this week by the prime minister of Ukraine, who just so happens to be Jewish.
How is the Ukrainian PM's religion relevant? Unless Horovitz is somehow trying to paint Netanyahu in an even more negative light.
We rightly condemn boycotts. Now Netanyahu is instituting them
How is what Netanyahu doing a boycott? The analogy to BDS is offensive.
But the inconvenient truth is that while 14 nations supported Resolution 2334, and the US chose not to oppose it, those 14 are not all enemies of Israel, far from it, and the United States certainly isn't.
That is precisely why Netanyahu reacted the way he did. This was a betrayal.
I have long posited the Times of Israel jumped the shark. This disgraceful op-ed just reinforces my belief.