Revisiting That Delightful Abbas "Palestine Post" Fail
Remember this now iconic photo of PA leader Mahmoud Abbas failing miserably, giving Saudi King Salman a copy of the Palestine Post?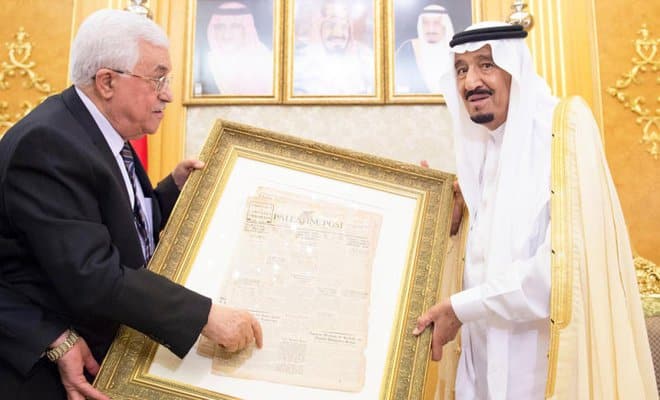 It turns out this was even more of a fail than I first thought. Not only was the Palestine Post a Zionist newspaper, but Abbas and company's forefathers tried to do away with it. I mean, really do away with it.
Three young staffers at the Palestine Post that day in 1948; three lives spared.

Alexander Zvielli, Mordecai Chertoff and Marlin Levin were all at work on the evening of February 1 that year. In separate interviews before they all passed away over the last decade, they recalled the harrowing attack that claimed four lives.

"At 24, nothing can happen to you," Chertoff told The Jerusalem Post in 2010, reminiscing about the time when his life story and Israel's history ran on the same path without a road map. "You're immune to every illness, every bullet."

That immunity includes surviving unscathed the deadly explosion of a stolen British army truck loaded with a half-ton of TNT planted by Arab terrorists, outside the Post's offices on Hasolel Street (now Havatzelet Street), just off Zion Square. The blast killed four people, including three Post employees, wounded several dozen and destroyed the two adjacent buildings.

—

The bombers were never found. Arab leader Abd al-Kadir al-Husseini claimed responsibility, but some claim that two British army deserters were also involved.
It seems Abbas really needs to brush up on his history. Of course, we knew that already.