Palestinians Accuse Prince William of Asserting Jewish Sovereignty Over "Al-Buraq Wall"
You can't make this stuff up.
Today Prince William visited a number of places in Jerusalem, including the Mount of Olives, the Western Wall, the Church of the Holy Sepulchre, and the Temple Mount.
While at the Western Wall, he did what pretty much every visitor there does: placed a note in the wall and prayed.
Nothing unusual or nefarious about it – unless you are the palestinian-run Quds News Network.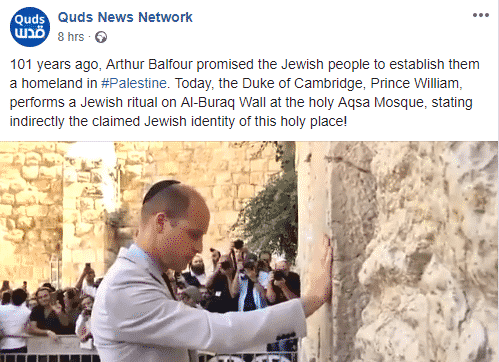 Yup, apparently this display of respect is a "Jewish ritual" and an attempt to assert a Jewish claim on this "Muslim" holy site (Muslims believe this is the Al-Buraq Wall, where Muhammed tied the riding animal upon which he rode during the Night of Ascension).
Others to have performed the Jewish ritual and help assert Jewish claims over the site include
Gazan journalist Abu Bakr Bashir
Israel hater Reza Aslan
And the Pope
Meanwhile, I'm just surprised they have not decried Prince William's visit to Al Aqsa Mosque as "storming".
.