Representatives of the Netherlands' ruling party have asked the capital city's government to explain why it allows anti-Semitic and anti-Israel incitement at a monument for victims of Nazism.

Amsterdam City Council lawmakers Marianne Poot and Diederik Boomsma of the People's Party for Freedom and Democracy and the Christian Democratic Appeal, respectively, filed nine questions to the city government earlier this week in connection with Sunday's edition of an action promoting a boycott of Israel that anti-Israel activists stage weekly at the Dam Square monument.

That day, the action, which is usually limited to a handful activists, saw new participants, mostly Arab men but also Europeans and several women. Organizers played from loudspeakers a song by the rapper Ismo, who has featured anti-Semitic and homophobic content in his songs. In a 2014 song, he said "I hate Jews more than the Nazis."

Titled "Free Palestine," the lyrics celebrate the actions of a female suicide bomber who blows herself up in Tel Aviv.

"Rush hour in Tel Aviv, she boards the bus with a 60-year-old man, she sits down and closes her eyes and desires for revenge come out and she wants to express them, she blows herself up," Ismo's voice was heard singing at the Dam monument, the pro-Israel Center for Information and Documentation on Israel, or CIDI, wrote on its website based on recordings made at the event.

Later that day, one activist told a JTA journalist filming the event: "Cancer Jews, you people don't exist, you're made up." But another, a woman from Ireland, insisted that the rally isn't anti-Semitic, saying "Criticism is not anti-Semitism."

Amin Abou Rashed, a man identified by Israel and other Western intelligence agencies as a Hamas operative in the Netherlands, was present at the event alongside BDS activist Simon Vrouwe.

—

Some of the activists Sunday carried signs showing the Israeli flag with a swastika instead of the Star of David. In the past, a variant of the same sign with a cockroach instead of the symbol was featured at the Dam Square protests.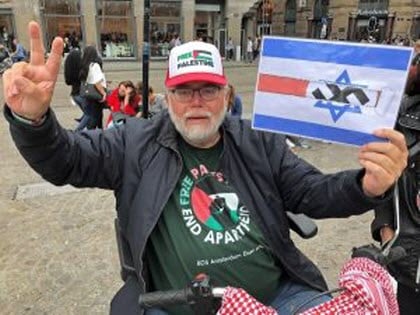 Not that I am surprised. Over 5 years ago, I called out BDS Amsterdam for co-opting the image of Anne Frank.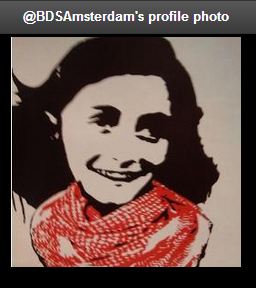 And Simon Vrouwe, the BDS-hole mentioned in the above report, allows his Jew hatred to shine on social media.
Again, none of this is surprising. Israel haters are almost always Jew haters – some are just better at hiding it than others.