Ridiculous Palestinian Propaganda Starring 'Photogenic' Shirtless Rioter
Remember A'ed Abu Amro aka Triple A, the palestinian rioter who George Takei crushed on, and who claimed we injured him because he is photogenic?
Al Jizz apparently agree he is photogenic, so they did a short propaganda video on him.
I don't know where to start with the ridiculousness of this…but I will try.
He admits to being on the front lines and being "the first one at the fence", and we see him engaged in violence, yet thinks he was targeted for being photogenic.
In the first few seconds of the video you see him at the violent protests hurling stones and then hobbling without his crutches, yet later on his father claims he cannot go to the bathroom by himself, dress himself or do his own hair.
He claims he heard people saying "He's wounded. But he's approaching the fence and isn't scared." Yeah, as if.
The following subtitles appear on the video: A'ed's protest against Israel's siege of Gaza reminded the world of the Palestinian people's struggle for freedom. But we all know that is not what these violent riots are about – they are about breaking through Israel's border fence to flood Israel and "return" to what they claim are their rightful lands. he even mentions planting his flag in "our occupied lands" (no, not a euphemism). Heck, it is called the March of Return, and they claim his name means "The one who returns."
He complains that his photograph was taken and he is not receiving any royalties. So much for this big man of heroism and principle!
His stroking his cat.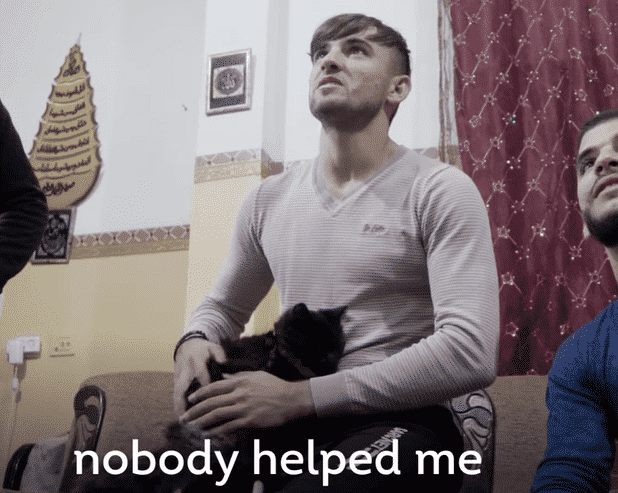 Triple A may be shirtless, but he's clearly full of sh*t.