Linda Sarsour Turns on The Jewish Forward
A few months ago, I posted out how The Forward had written extensively in support of Linda Sarsour and the Women's March.
Alas, they had the audacity to ask for Benjamins money while reminding readers they called out Rep. Ilhan Omar for her antisemitism.
Hell hath no fury like a Jew hater scorned.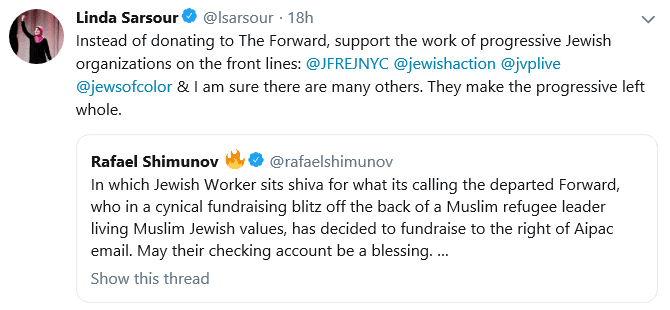 Think about it. This is a publication that has gone out of its way to defend her to the Jewish community and has even attacked pro-Israel folk. Yet the second they do the right thing and call out some real antisemitism, Sarsour attacks them.
I hope the Forward learns something from this experience: that no matter how much a Jew wants to be liked by an antisemite, it just isn't going to happen.