About That (Old) Photo of the Israeli Soldier and Old Lady
The Palestinian Information Center and other anti-Israel websites and individuals have been sharing the below photo.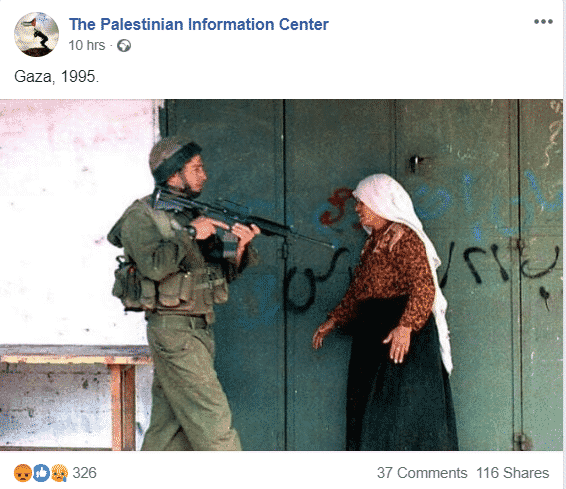 The implication is clear: the soldier is pointing the gun at an old lady. And this is borne out by the comments.
Needless to say, that is not what is going on – even according to the clearly anti-Israel photographer who took the photo.
JABALYA, GAZA: A Palestinian woman pleads with an Israeli soldier not to fire at youths 16 March during a confrontation in the Jabalaya camp in northern Gaza. Soldiers reportedly wounded 15 Palestinians during clashes in the region, according to Palestinian sources. (Photo credit should read ABDELHAK SENNA/AFP/Getty Images)
We can't even be sure this is what is going on in that photo, but what we can be sure of is if the soldier was pointing the gun at the woman in a threatening manner, Abdelhak Senna of AFP/Getty Images would surely tell us about it.