Facebook's Ridiculous Double Standard In Plain View
Yesterday, I posted about yet another palestinian libel against Israel. As of now, the Facebook post is still online, and looks as follows: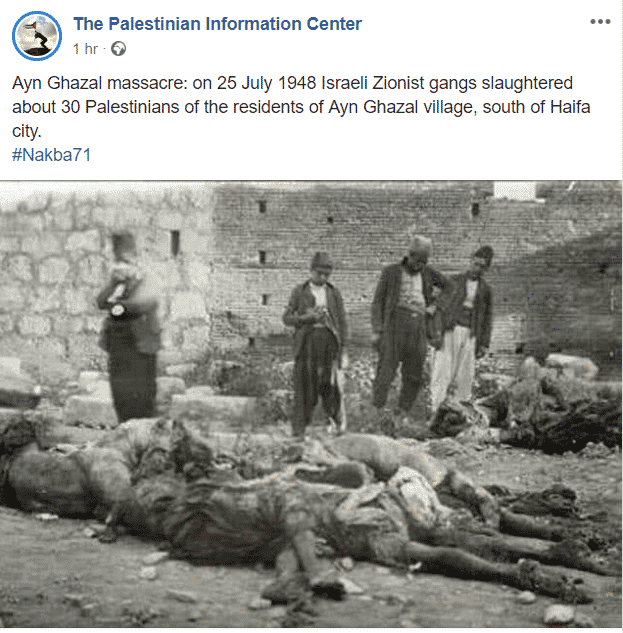 After I published my post, I did what I always do – tweeted it out and posted a link to it on the Israellycool Facebook page. Have a look for yourself – this is how that Facebook post looks: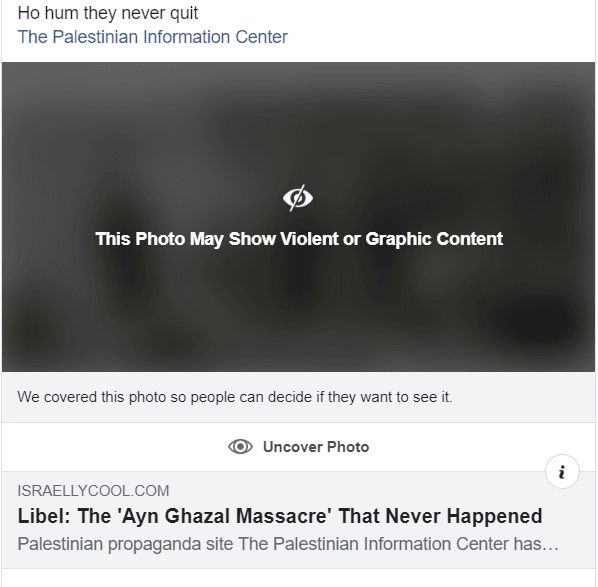 The photo that Facebook has obfuscated because it "may show violent or graphic content" is the above screenshot of the Palestinian Information Center post, which served as the feature photo of my blog post.
Think about how ridiculous that is for a second. The actual libelous post displaying the photo to begin with is on Facebook, in all of its glory. My Facebook post, which shows a screenshot of their apparently fine-and-dandy-according-to-Facebook post, has been limited.
This reminds me of those times Twitter suspended me for retweeting antisemitic tweets (with my own comments above the tweets) done with sole purpose of showing people the type of antisemitic garbage we are up against. I was forced to delete the retweets. Yet the source antisemitic tweets remained online.
But please tell me how there isn't a bias against conservative and pro-Israel accounts on Facebook and Twitter.
Update: Hours later, and Facebook is now also hiding the original photo.