Jewish Voice for Peace – which we know is neither Jewish nor for peace – posted this story about a young Gazan girl who died alone in a hospital in the "West Bank"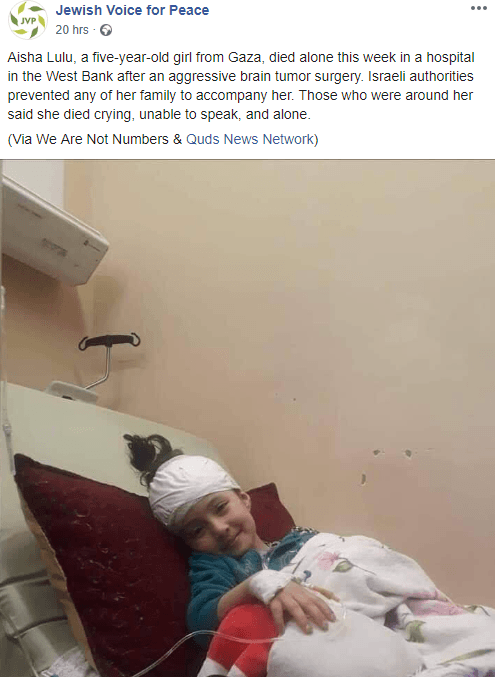 They weren't alone. Apparently, Aisha's story made its way via many people and outlets, including traitorous MK Ahmed Tibi.
COGAT has denied this is what happened, explaining she actually died in Gaza (presumably with her parents nearby), but had previously traveled to Jerusalem for treatment with an escort since her parents did not want to accompany her out of Gaza:
The office of the Coordinator of Government Activities in the Territories (COGAT) said in a statement to the media that the story was not true.

"Contrary to reports, Aisha a-Lulu passed away in the Gaza Strip after having returned to her home approximately two weeks ago after surgery, which unfortunately did not succeed in the Al-Maqasid Hospital [in Jerusalem]."

—

"Israel approved the entry into Israel of the child Aisha a-Lulu for medical treatment in a hospital in east Jerusalem after her parents signed a waiver, according to which they did not wish to leave the Gaza Strip with her," COGAT said.

"We emphasize that CLA [Coordination and Liaison Administration] Gaza policy requires parents to escort their minor children for medical treatments, based on the understanding that children need their parents in moments such as these.

"However, in this case, Aisha's parents did not wish to accompany her and therefore, in accordance with CLA policy, they were requested to sign a declaration that they choose not to escort their daughter during the course of her treatment, due to their own choice, and request that another party on their behalf escort her," COGAT said.
I would take COGAT's word over that of the haters any day of the week. I know from my research that COGAT go out of their way to make life easier for the average palestinian. But if my opinion isn't enough for you, look at what Quds News Network, which JVP quotes, had to say.
While Quds News Network repeat the claims she died in the 'West Bank", and Israel refused to let her parents accompany her, they slip with the admission that Aisha came to Israel with a "strange woman", reinforcing what COGAT said about Aisha being accompanied by an escort and contradicting claims she was all alone.
May young Aisha's memory be a blessing – unlike that of all the haters trying to exploit her death in order to demonize Israel.
Update: Here, Quds News Network also admits she returned to Gaza before dying.
Palestinian Minister of Health says the case of deceased Aisha Lulu, 5 years old, from Gaza, who died shortly after returning from her treatment journey alone in Jerusalem, is a reflection of the oppression and suffering of the Palestinian people.

— Quds News Network (@QudsNen) May 18, 2019
Update: More on the libel here.
Please help ensure Israellycool can keep going,
by donating one time or monthly