Anti-Israel Facebook page Shehab News Agency posted photos of the supposed arrest of a palestinian child a few days ago
As did others like Quds News Network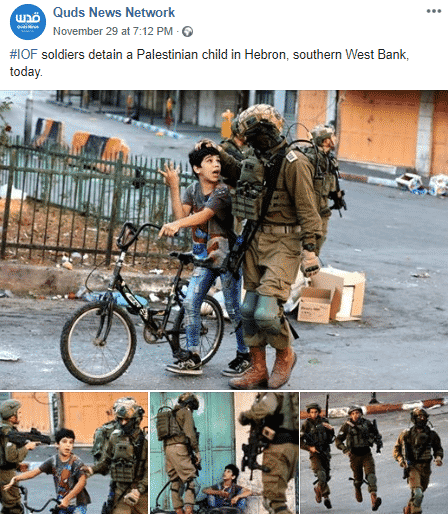 and former Meretz MK Mozzi Raz, who picked up on the QNN post
Naturally, I suspected this was not the case of some kid innocently riding his bike and getting detained (or even "abducted" as others claim).
For a start, we are dealing with palestinian propagandists – lying is their weapon of choice.
Then, I noticed Shehab subsequently posted the photos again, but amended the text to make it sound even more like an outrageous Israeli violation of the rights of some innocent kid (note: the auto-translation is not accurate – it should read "surprised", not "raped"!)
A reverse image search revealed the source of at least one of the photos
Israeli soldiers arrest a Palestinian boy, accusing him of throwing stones during clashes in the West Bank city of Hebron. EPA
Note also how calm the boy is in this photo, and how the IDF soldier is resting his hand on the boy's head. The boy is clearly not in fear for his life or even surprised.
In fact, the boy does not seem fearful in any of these photos. Argumentative (in a few of them), but not scared.
While we do not know whether or not he was arrested or released, the fact the EPA photographer mentioned him under suspicion of throwing stones during clashes, indicates there was reason for the IDF to be engaging with him in this way.
I should also point out that Mossi Raz has a history of spreading fake news about photos. In September, he tweeted a photo in which Karnei Shomron security coordinator Yair Treblessi was aiming his weapon at a palestinian boy and girl, alongside the caption "Violence is the Milling of the Foundations of Democracy.". After it became clear that this was a picture in which security forces captured two terrorists who reached the entrance to the village and tried to stab one of the residents, Raz apologized to Treblessi.
Update: Incidentally, it pains me to say some pro-Israel people have also seemingly spread some fake news regarding the photo.
The EPA photo and caption says otherwise. While this is the exception and not the rule, we still need to be better than the haters and check everything diligently.
Please help ensure Israellycool can keep going,
by donating one time or monthly