Animals Australia Posts Anti-Israel Propaganda
Animals Australia, Australia's leading animal protection organisation, have for some inexplicable reason decided to post this
Cycle of violence?
This is little more than anti-Israel propaganda, blaming Israel for the ill-treatment of animals in the palestinian-controlled territories with "the abused became the abuser."
That's right.
It is Israel'a fault that Hamas TV's Nahoul the Bee revels in abusing cats 
that Gaza's Rafah zoo kept animals in appalling conditions
that it reopened with rampant animal abuse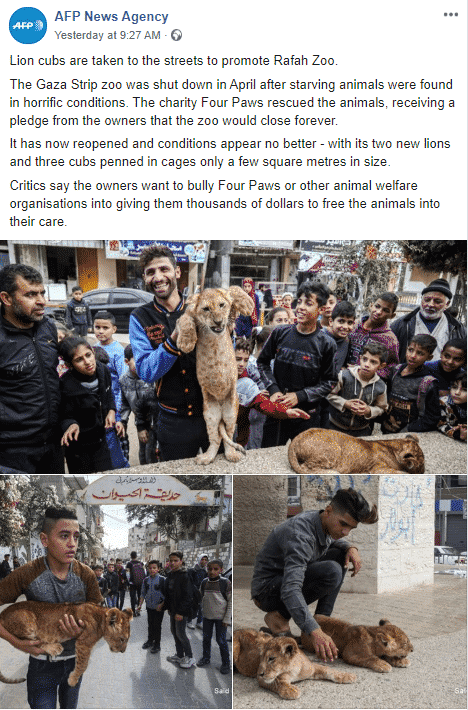 that cattle have been stabbed in the eyes, "knee-capped" with an assault rifle, strangled and brutally slaughtered during the religious Eid al Adha festival in the Gaza Strip
that Hamas banned dog walking in Gaza
and that palestinian terrorists have used donkeys as suicide bombers.
(just to name a few examples)
Alternatively, because many palestinians have been incited to be extremely cruel towards Jews and Israelis from an early age (and even, in the case of honor killings, towards their own people), this extends towards animals.
Animal Australia were actually the ones who highlighted the plight of Australian cattle being abused during the Eid al Adha festival in Gaza. Despite the fact this was clearly a religious ceremony, they have still posted this one-sided propaganda blaming it all on Israel, while exonerating palestinians for their animal abuse, reducing them to small kids with no agency of their own.
I guess for Animal Australia, all animals are equal but some animals are more equal than others (hat tip: Carla)