Did Jewish "Settlers" Really Torch Palestinian Arab Fields in Burin?
Last night B'Tselem claimed that "settlers" had torched palestinian fields in Burin.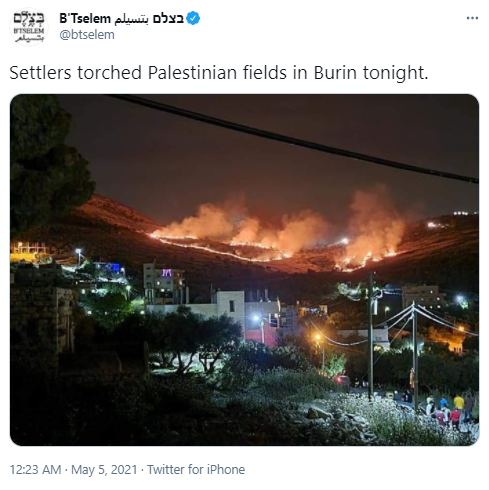 The allegation was echoed by haters near and far, including Avner Gvaryahu, Executive Director of anti-Israel NGO Breaking the Silence: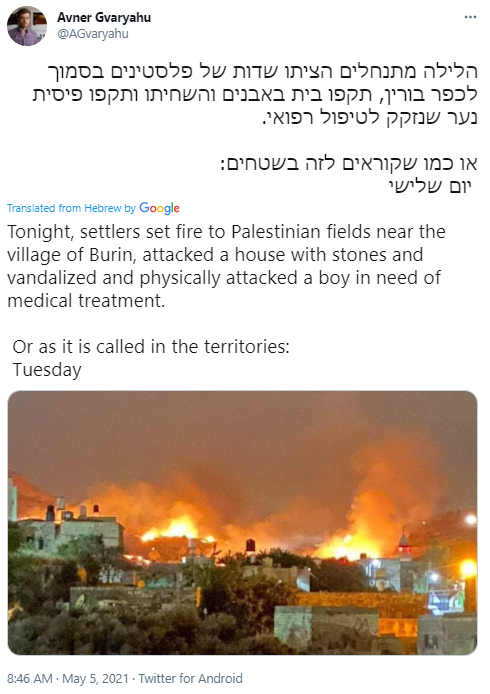 and the ever reliably hasteful Linda Sarsour:
(note how the tweet Sarsour retweeted describes young 19-year-old yeshiva students as "settlers", as if they had it coming)
Except that's maybe not what happened at all.
Shachar Glick of Galatz Radio reported that three palestinian Arabs were caught on security cameras setting fire to the area.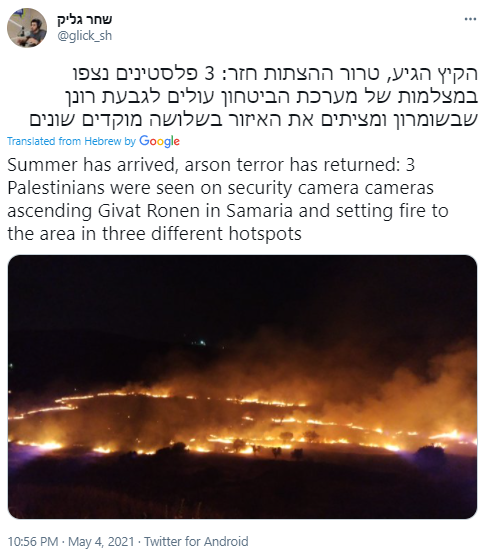 Later, Israeli Channel 13 News military correspondent Or Heller quoted the IDF in confirming it was the handiwork of palestinian Arabs (after he had previously amplified the B'tselem claim).
This has led Gvaryahu to admit he may have been wrong:
I will await further information – including release of the security footage – before stating definitively who was behind the arson. Yes, there are some crazies on the Israeli side who have set fire to palestinian Arab fields before. And they are to be condemned for doing so. At the same time, there have been plenty of palestinian Arabs setting fire to Jewish fields. (Heck, the past few years, we have seen a real upswing in palestinian arson terror, with the increased use of incendiary kites and the like).
Organizations like B'Tselem have a duty to check the facts before publishing such harmful allegations. By quickly siding with the palestinian Arabs, they have again shown themselves to be less about truth and justice and more about demonizing Israel.
That goes even more so for Sarsour et al.
Update: This is apparently video of the arsonists setting fire near the Har Bracha settlement:
https://twitter.com/EladHumi/status/1389860604215758851
.