House Democrats' Shameful Vote Goes Against US Law Sanctioning Use of Human Shields
Every now and again, government works exactly as it's intended and does what the electorate hopes it will do. On good days, this means elected officials successfully provide for the first couple of levels in the proverbial pyramid of needs for its citizens. 
On great days, it means that government looks beyond the immediate needs of its immediate electorate and does something to benefit or protect the common good of humanity – to help ensure that we are our collective best selves. In doing so, it makes a profound statement about who aspire to be and what kind of a world we want to see. On these days, government takes on an almost individual persona, anthropomorphized as a moral being, with a clear value system and reverence for its better angels. These days in history are easily recalled as they emancipate, enfranchise, elevate and protect cohorts of humans that have been less fortunate and more vulnerable than the average citizen, often across the world.
December 21, 2018 was one of these great legislative days in America, as the 115th Congress and the President enacted into law HR3342 – Sanctioning the Use of Civilians as Defenseless Shields Act.
This law lucidly states:
It shall be U.S. policy to condemn the use of innocent civilians as human shields.
It specifically lists Hamas and Hizballah as two organization that use innocent civilians as human shields and defines Hamas as follows:
The term "Hamas" means–

(A) the entity known as Hamas and designated by the Secretary of State as a foreign terrorist organization pursuant to section 219 of the Immigration and

Nationality Act (8 U.S.C. 1189); or (B) any person identified as an agent or instrumentality of Hamas
HR3342 outlines mandatory sanctions that should be levied against Hamas when it uses civilians as human shields, outlining a specific process by which Congress and the President must cooperate to enforce the sanctions.  
HR3342 was enacted specifically for the current situation where Hamas has recently fired over 3,000 rockets (as of the writing of this article) into major cities across Israel, 100% from civilian areas in Gaza, rendering all the civilians in those areas the very definition of "defenseless human shields" that HR3342 seeks to protect. 
Surprisingly, the mainstream news media, which tends to take a consistently sympathetic view towards the purported Palestinian plight, has not made mention of HR3342 in its 24/7 news coverage of the current situation in Israel, but journalists only have a professional responsibility rather than a legal one. Unlike members of the media, members of congress have a legal duty to HR3342.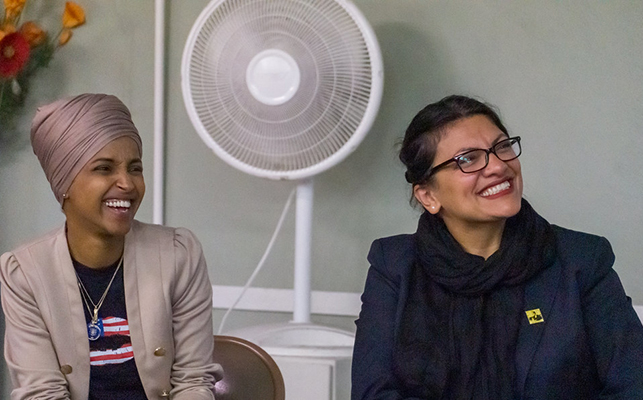 Shockingly, many members of US Congress have demonstrated a gross dereliction of duty by failing to support or even discussion or acknowledge HR3342. Representatives Rashida Tlaib, Ilhan Omar and Alexandra Ocasio-Cortez, who have been so vocal about the human rights of Palestinians, have actively sidestepped HR3342. In doing so, the congresswomen, known colloquially as "The Squad," effectively stand in support of Hamas using defenseless civilians as human shields.
May 18, 2021 was a shamefully bad legislative day for the US Congress. In a 217-209 vote, House Democrats voted against applying sanctions on Hamas, in direct violation of HR3342. Hypocritically, members of The Squad, who have yet to condemn Hamas as a terrorist organization, made many hollow statements on their social media accounts on the very same day they failed the defenseless Palestinian men, women and especially the children, who have been relentlessly relegated to human shield status by Hamas over the last two weeks. 
"Palestinian Lives Matter" tweeted Ilhan Omar
…Indeed they do, Rep. Omar. Now do your elected and sworn duty and demand that President Biden exercise all of the powers granted to him under the International Emergency Economic Powers Act to sanction Hamas from using human shields, as HR3342 requires.