Linda Sarsour's Response to Antisemitic Attacks on New York Jews
In the last week or so, we have seen many scenes of American Jews being verbally and physically assaulted by so-called "Palestine" supporters who seem hellbent on emulating their heroes when it comes to violence and generally vile behavior.
Here are some examples from New York alone:
Jewish man savagely beaten by Palestinian mob in NYC!

Look at how shameless they are to commit such brazen violence against innocent people!

Look how silent the damned world is!!

Damn every last one of you who are silent bc the victims are Jews but wouldn't shut up otherwise!! https://t.co/K9qfxeZgdn pic.twitter.com/Zt0RS32p2a

— Dov Hikind (@HikindDov) May 21, 2021
HAPPENING NOW: Palestinian harassment fleet drives by Jews in Manhattan, threatening violence while screaming antisemitic slurs.

See next tweet for proof of the firebomb one of them threw at a Jewish target and their subsequent arrest on the scene.#AntiZionismIsAntisemitism pic.twitter.com/3t5KAIMKtN

— Dov Hikind (@HikindDov) May 20, 2021
Palestinians threw a mini firebomb at Jews in New York City moments ago. pic.twitter.com/rK7gXEEuql

— Dov Hikind (@HikindDov) May 20, 2021
Breaking: Palestinian protestors throw explosive device at Jewish Americans working at New York's diamond district in Manhattan. pic.twitter.com/9iyQBwUac9

— Reagan Battalion (@ReaganBattalion) May 21, 2021
This is going on right near Linda Sarsour's doorstep, yet this self-proclaimed opponent of antisemitism – who speaks on antisemitism panels – has had nothing to say about it.
Well, that is not entirely true. Her social media feeds have been replete with more inflammatory lies and hate against Israel while these attacks on her fellow New Yorkers have been continuing.
Remember, this is the same Linda Sarsour who claims to oppose antisemitism. Where's the vigil this time, Linda?
Oh, right I forgot. In your mind, only antisemitism from White Nationalists is bad. The antisemitism of your people is not just ok, but completely justified.
And here I was thinking you did not like importing the Middle East to New York: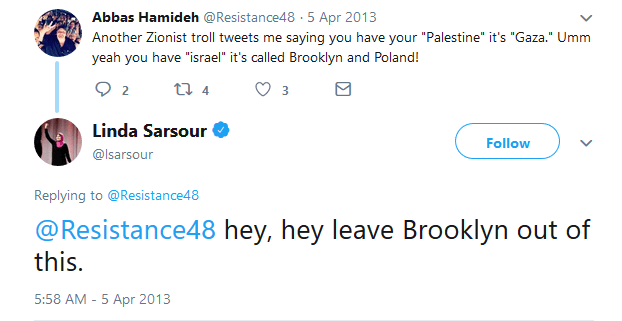 Update: Needless to say, elected officials like Rashida Tlaib and Alexandra Ocasio-Cortez are also silent when it comes to these antisemitic attacks, but not silent when it comes to spreading their lies and hate against the Jewish state.
Ilan Omar actually did tweet this
Horrific and unacceptable. Nobody should face threats and harassment based on their religion or ethnicity.

This has to stop. https://t.co/9QUgNm39UB

— Ilhan Omar (@IlhanMN) May 21, 2021
but it counts for very little while she continues to help fan the flames.