A Tweet That Has Not Aged Well for "Anti-Zionist-Not-Antisemite" Linda Sarsour
One of the favorite antisemitic tropes disseminated by Abbas Hamideh, the Jew-hating terror supporter who seems chummy with congresswoman Rashida Tlaib, is that the Jewish people are not indigenous to Israel, but are rather from places like Europe and the USA. For instance, remember this one?
Another example has just come to my attention, but it's the response from an even more well-known hater that is more interesting to me: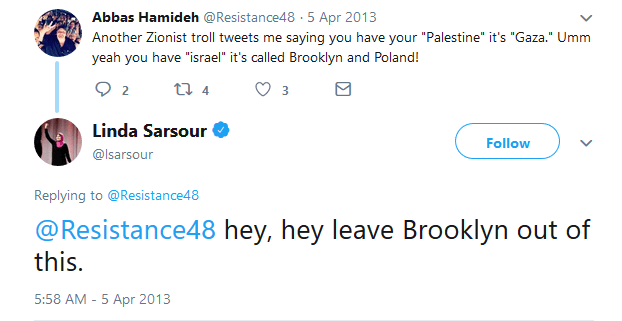 Sarsour's tweet is open to interpretation; At worst, she means she does not want Jews in Brooklyn (assuming Hamideh is suggesting Jews should return there); at best, she does not mean that, but she sure as hell has no problem with suggesting Jews belong in Poland, not Israel.
Either way, Sarsour's response is not a good look, especially for someone who claims she is not a Jew hater.
Meanwhile, here is the "anti-Zionist-not-antisemite" in action at the recent University of Massachusetts Amherst all-star panel of scum and villainy, telling Jews what antisemitism is and isn't (conveniently omitting Ilan Omar's range of antisemitic tweets and statements), as well as telling Jews about our "White privilege" and how we should act.
Linda Sarsour does not get to define antisemitism for us – just like we wouldn't leave an arsonist in charge of a match factory.