Is Sunrise Movement and IfNotNow Director Trying to Undermine Judaism Itself?
You've probably followed the news already: last week, Sunrise DC called for the removal of three progressive Jewish groups from a voting rights coalition, even though they tried to paint those groups as merely "Zionist":
This has understandably caused an uproar, with even the national Sunrise movement condemning the statement (but only after Jewish groups approached them after an initial, vague statement opposing antisemitism and "anti-Palestinian racism" in the same breath):
Some groups, like Black Lives Matter DC, defended Sunrise DC (the tweet has since been deleted):
while "Jew-ish" anti-Israel group IfNotNow showed their agreement with the Sunrise movement's condemnation of Sunrise DC's statement, while adding in "Palestinian rights" for good measure:
Why am I recapping all of this? I want to now highlight something many of you may not already be aware of: a strong, disturbing connection between IfNotNow and Sunrise.
---
Meet Seth Woody, an activist on the evangelical left and lead organizer of the Leadership Development Initiative of the Episcopal Diocese of Massachusetts. This initiative "works to awaken the Church and enable it to live into its true vocation to social justice, reconciliation, and the transformation of individuals, communities, and the larger world through the power of the Spirit of Christ."
Woody is clearly not Jewish in the slightest, but does really heart one particular Jew: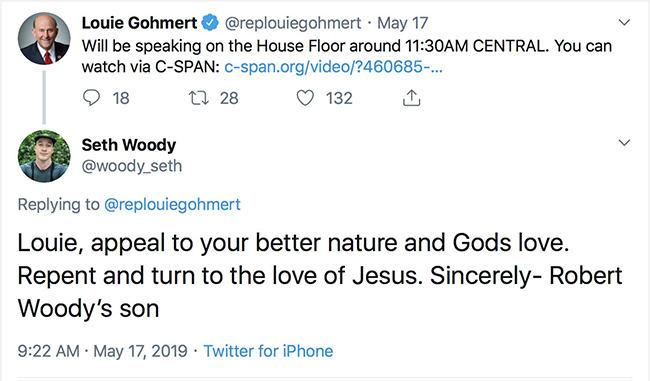 And here's the kicker: Woody is one of the founding directors of IfNotNow, while also being a director of Sunrise Iowa, as this Vice article makes clear:
"We're a community of practice, not a church," noted Seth Woody, Sunrise's Iowa director and a former member of the Momentum core team*, which is sort of like the group's board of directors.
One of Woody's Twitter accounts also makes clear his connection with the Sunrise Movement:
(Woody is not the only non-Jewish member of IfNotNow; for instance, this article mentions that Sunrise founder Sara Blazevic – originally an IfNotNow organizer – is Croatian, not Jewish).
Remember, IfNotNow love to co-opt Jewish practice to further their anti-Israel agenda, while showing their supreme ignorance of Judaism. Having as one of their founding directors an evangelist trying to spread the word of Jesus puts this in an even more disturbing light.
Not only that, but the Episcopal Diocese of Massachusetts, which runs the Leadership Development Initiative of which Woody is the lead organizer, has its own disturbing, recent history of antisemitism; in 2018, Bishop Gayle Harris was condemned for spreading anti-Israel fabrications 'bordering on blood libel.'
Seth Woody's pivotal role in both Sunrise and IfNotNow puts their antisemitism and mockery of Judaism, respectively, in a new, disturbing light. While before, it ostensibly might have seemed they are just like many other so-called "social justice" movements plagued by ignorance and woke antipathy towards the Jewish state, having as a director a leftist evangelical from a Church with a history of antisemitic behavior – whose goal seems to be to undermine Judaism itself – should be sounding the alarm bells.
This post drew heavily from tweets from Twitter users (((Donny))), and Claire_V0ltaire.
*Guest poster kweansmom detailed links between IfNotNow, Sunrise, and Momentum in a series of posts over two years ago