Nick Cave Announces Return to Israel Days After Roger Waters Attacks Him
A few days ago, I posted how Roger Waters again attacked, among other people, Nick Cave.
Clearly, it still stings ol' Roger that Nick still came to perform in Israel, despite his bullying efforts.
Actually, it was way worse than that. Not only did Nick come, but he launched a counter-attack against BDS:
"In a certain way, the BDS movement is responsible for my coming to Israel," Cave said at a press conference Sunday in Tel Aviv ahead of his two sold-out shows Sunday and Monday nights at the Menorah Mivtachim Arena

—

I like Israel and Israelis and it was important for me to do something."
And showed some huge love for Israel:
"I love you, I love you, I'm f***ing crazy about you" he replied before diving directly back into the band's repertoire.
Nick followed this up with a further rebuke of BDS in an online essay:
But I also do not support the Boycott, Divestments and Sanctions movement, as you know. I think the cultural boycott of Israel is cowardly and shameful. In fact, this is partly the reason I am playing Israel – not as support for any particular political entity but as a principled stand against those who wish to bully, shame and silence musicians. I don't intend to engage in a detailed discussion as to how the boycott of Israel can be seen to be anti-Semitic at heart and, furthermore, does not work (rather, it risks further entrenching positions in Israel in opposition to those you support), but even the estimable Noam Chomsky considers the BDS as lacking legitimacy and inherently hypocritical.
and a quip about Waters:
The conversation roams widely, from his history of addiction ("It seemed like a good idea at the time, until it didn't seem like a good idea. But then I couldn't stop because I was addicted."), to a public dispute with Brian Eno and Roger Waters over the BDS movement ("Brian Eno is an endlessly interesting, compassionate, fair-minded individual and Roger Waters is… not.").
So I am really enjoying the fact that, not only has Nick announced Israel as being on his Summer 2022 tour, but that it occurs so soon after Waters' latest attack on him: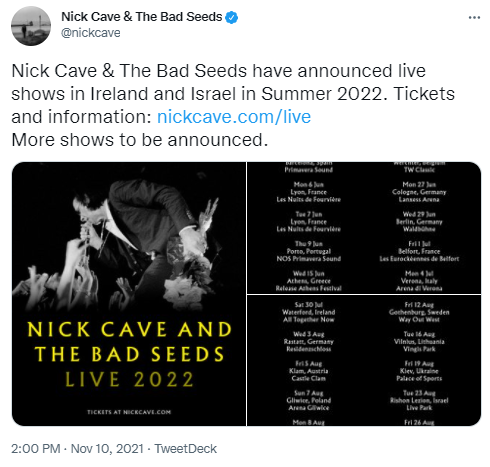 Granted, the timing may be a coincidence; this is reportedly a rescheduling of his concert initially planned for June 2020. But I am still enjoying the fact it is going to really piss of Roger Waters!