Gazans Call for Execution of Hamas Captain Who Allegedly Raped His Four-Year-Old Niece
Deeply disturbing news from Gaza, with reports a Hamas-hole raped his niece.
A four-year-old was raped by her 35-year-old uncle in the city of Rafah in Gaza Strip, according to reports published on Friday.

The child's mother discovered her daughter was sexually assaulted after she suffered severe bleeding and had to be urgently hospitalized, Alquds newspaper quoted an unnamed source.

The source said that medical reports stated the child was raped by an adult and investigations were immediately launched.

Security forces discovered that the uncle was the rapist after the child kept repeating his name and saying that he had locked her inside a room.

According to the source, the rapist was arrested after investigations confirmed his guilt.

—

Alquds reported that the father voiced his rejection over the involvement of his name or his daughter's name in any political disputes, considering that the offender works in one of the security services in Gaza.
Not that much can make this abhorrent act more disturbing, but it is also alleged the perpetrator was senior in Hamas and did it as an act of revenge.
Eyewitnesses confirmed to "Amad " that the girl's uncle works as a captain in the Hamas interior, and took revenge on his niece, in a dispute between them because of the heirs of their shops in the market of Rafah.

For his part, one of the family's neighbors confirmed to " AMD " that the girl's uncle told her father that he would make him cry for what he had most precious, without explaining to him details of what he wanted to do.
Social media users have posted the photo and name of the alleged rapist: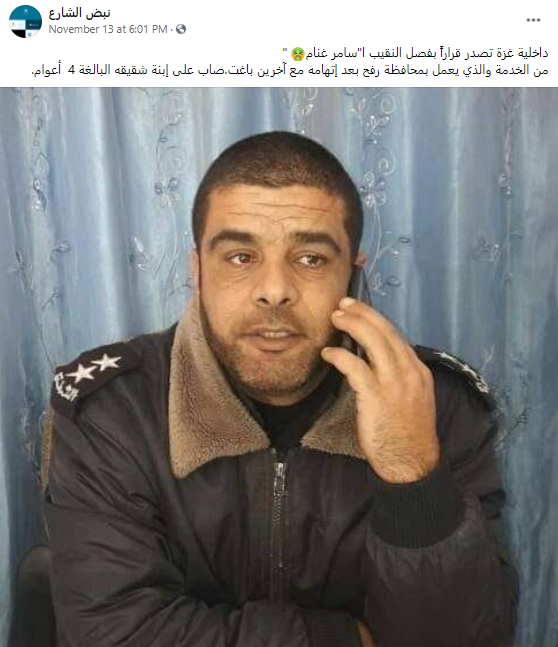 While the law provides for a penalty of only 14-years imprisonment, Gazans are calling for his execution.
Activist Hamza al-Masri wrote: "There are major shortcomings in Penal Code No. 74, which has been applied in the Gaza Strip since 1936, with regard to the punishment of rape and unlawful sexual intercourse, as Article 1152 states that the penalty for a rapist is only 14 years. 

The crime of raping his child in Rafah should be referred to the military court, and the perpetrator should be tried according to the revolutionary law and executed
Almost half a week later, and I have yet to see anything about this from so-called human rights organizations who constantly bash Israel for our supposed treatment of palestinian Arabs, nor the mainstream media.
Hat tip: Michal